Press release
​Half year results 2017: Higher returns for farmer owners
Read time:

4 min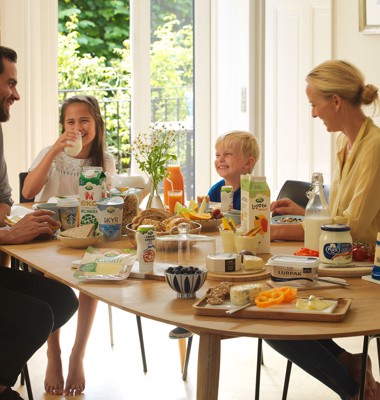 ​Half year results 2017: Higher returns for farmer owners
Published:

25 August 2017

Contacts:
Arla's revenue is up by three per cent and the performance price is up by 19 per cent in the first half of 2017 due to increased sales prices and Arla continuing to grow branded sales to improve farmer profits.
Arla expects to achieve its full-year targets for profits, strategic branded growth and financial leverage – along with further improvements in the performance price and a full-year Group revenue increase of nearly EUR 1 billion.
The first half of the year showed a much-needed recovery in the global milk prices after nearly three years of low prices in the industry. This was a direct result of lower to unchanged milk production versus the prior year in most dairy-producing markets combined with improved demand for milk and dairy products in Europe, the US, and emerging markets.
Despite reduced total milk volumes from farms and adverse currency developments, Group revenue grew 3.4 per cent to EUR 5 billion (from EUR 4.85 billion the first half of 2016). The underlying revenue growth excluding currency effects and divestments was 6.6 per cent.
Arla's performance price, which measures the value Arla has generated from each kilo of milk supplied by the farmer-owners, increased by 19 per cent over the period to 35.8 EUR-cent/kg, compared to 30.0 EUR-cent/kg during the first half of 2016.
"As the global dairy market improved, we have responded to the sustained rally in global dairy prices while continually improving our product mix across key markets. As a result, we have increased the prepaid milk price to the farmers who own our company by 42 per cent over the last twelve months. They needed that, as the past two and a half years have been tough for most dairy farmers around the world," says CEO of Arla Foods, Peder Tuborgh.
Strong sales growth in Arla Foods Ingredients
Arla Foods Ingredients, a fully-owned Arla Foods subsidiary and a global leader in whey based ingredients used in a wide range of food categories, reported a 24 per cent revenue growth in the first half of 2017 to EUR 313 million, compared to EUR 252 million in the first half of 2016.
"Our natural whey ingredients business remains the most profitable part of the Arla Group as we continue to take lead and invest in technology that sets the industry standard for quality, innovation and food safety. I expect this business to continue its high growth rates throughout the rest of the year through strong performance in value-added protein ingredients for the child nutrition and medical nutrition markets," says Peder Tuborgh.
Improved product mix in Europe
Europe is Arla's core commercial zone with revenue of EUR 3.2 billion in the first half of 2017 (excluding European revenue from Arla Foods Ingredients and trading), equal to 63 per cent of Group revenue, and was unchanged from EUR 3.2 billion in the first half of 2016.
Higher sales prices and improved share of branded sales had a positive impact on Arla's revenue in Europe, however these were offset by lower milk volumes and adverse currency developments, primarily in the GBP, which impacted revenue negatively by EUR 135 million. The divestment of the juice subsidiary Rynkeby in May 2016 also accounted for a EUR 23 million reduction in revenue compared to the first half of last year.
"In a period with notably increased sales prices across Europe, our strategic branded sales have been stable in the region as a whole. Consumers remain loyal to quality brands despite the higher prices, and in some markets like the Netherlands we have seen a significant growth in our branded sales. We are continuing to work with our customers across Europe to create growth in the dairy aisle," says CFO in Arla Foods, Natalie Knight.
High international growth rates
It is Arla's strategic ambition to substantially expand its sales outside Europe, specifically in the regions Middle East and North Africa, China and Southeast Asia, Sub-Saharan Africa, USA and Russia.
Overall, Arla's international business grew 10 per cent to EUR 792 million for the first half of the year – primarily driven by strong performance in Sub-Saharan Africa (up 32 per cent) and China and Southeast Asia (up 36 per cent).
"Demand for dairy products continues to rise in Asia and Africa as an emerging middle class population looks to add more nutrition to their diets through dairy and other sources. Our sales of affordable family nutrition products is growing fast in urban areas in West Africa and Southeast Asia, and we continue to make more innovative products available to consumers in those regions as we tailor our product development to the needs of consumers around the world," says Natalie Knight.
Expectations for the full year
For the full year Arla expects further improvement in the performance price compared to the half-year level. Revenue is expected to be in the upper end of the range of 10 to 10.5 billion EUR, up from EUR 9.6 billion in 2016.
"The improving market conditions, driven by increasing milk fat and protein prices, particularly in Europe over the recent months, is indeed good news for Arla and our farmers. As the market continues to improve, the second half of 2017 should be even stronger. We expect to meet our targets on revenue, profit share, leverage and strategic brand growth. We expect the positive price trends to continue and we have introduced further increases in our prepaid milk price to our farmers in July, August and September and expect to sustain this high level for the rest of the year," says Peder Tuborgh.
Arla targets a net profit share for 2017 in the range of 2.8 to 3.2 as the company continues to focus on paying out the largest possible share of profit via the prepaid milk price to farmer-owners.
Arla expects its financial leverage for the full year to be within the stated long-term target range of 2.8 to 3.4.
Arla will announce its annual results 2017 on February 21st 2018.
Read or download the full Arla Foods Half Year Report 2017 at www.arla.com/investor
Arla Foods is an international dairy company owned by 9,400 farmers from Denmark, Sweden, the UK, Germany, Belgium, Luxembourg and the Netherlands. Arla Foods is one of the leading players in the international dairy arena with well-known brands like Arla®, Lurpak®, Puck® and Castello®. Arla Foods is focused on providing good dairy nourishment from sustainable farming and operations and is also the world's largest manufacturer of organic dairy products.
Press contact
Åse Andersson
Global Head of Media
Press contact for Arla Foods Group
aasan@arlafoods.com
+45 91 310 310
+45 89 38 10 00