Press release
Henrik Lilballe Hansen announced as new Managing Director of Arla Denmark
Read time:

2 min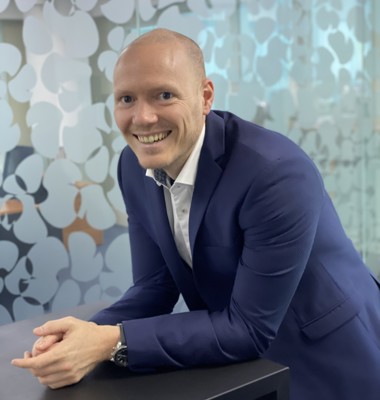 Henrik Lilballe Hansen announced as new Managing Director of Arla Denmark
Published:

06 February 2023

Contacts:
Henrik Lilballe Hansen, currently Managing Director of Arla Saudi Arabia, will join Arla Foods Denmark as the new Managing Director from 1 April 2023.
Henrik Lilballe Hansen has been with Arla Foods since 2015 in various roles and most recently as Managing Director of Arla Saudi Arabia overseeing operations in a country where Arla has more than 1000 employees and experienced massive growth in recent years. He starts his new position as Managing Director of Arla Denmark 1 April 2023 taking over from Helle Müller Petrsen who left Arla at the end of December.  
"I am delighted that Henrik is returning to Denmark to lead the Danish team as Managing Director. Arla is an important and influential business in Denmark and we ran a rigorous search for the next Managing Director following Helle Müller Pedersen's announced departure. Henrik's commercial experience from running Arla's largest market outside of Europe and one of the fastest growing, his deep knowledge of finance in global and market roles and his results orientated leadership skills made Henrik stand out as the ideal candidate to lead the Danish organisation," says Executive Vice President and head of Arla's European business, Peter Giørtz-Carlsen.  
Henrik Lilballe Hansen started his Arla career in Denmark as a Finance Business Partner for the Danish sales team. He then took on a role as Finance Business Partner for Global Marketing and Innovation before relocating to Dubai and the role as Finance Director for Arla MENA (Middle East and North Africa). In early 2021, he was announced as the new Managing Director for Arla Saudi Arabia. But now he returns home to where it all started.  
"I am excited and humbled to be given this opportunity and I am looking forward to re-joining and leading the fantastic team in one of Denmark's most important companies with such iconic brands. Many of my best Arla memories are from my last time working in the Danish organization, and I am proud to once again be part of the great team and culture there. I also look forward to working closer together with our owners as we deliver and commercialize on our sustainability ambition," Henrik Lilballe Hansen says.
He adds: "I am sad to leave the team in Saudi Arabia and good colleagues in the MENA organisation. It has been an incredible journey over the last 5 years, and I would like to thank all of my wonderful colleagues who have built a fantastic team and delivered incredible results. I look forward to watching their progress from Denmark, and I am sure they will continue to take our Saudi Arabia business to the next levels."
 
Henrik Lilballe Hansen will report to Peter Giørtz-Carlsen and also join his European Leadership Team. Together with his wife and two children, he will move to Denmark and the process of finding his successor as Managing Director of Arla Saudi Arabia has begun.
Arla Foods is an international dairy company owned by more than 8,400 farmers from Denmark, Sweden, the UK, Germany, Belgium, Luxembourg and the Netherlands. Arla Foods is one of the leading players in the international dairy arena with well-known brands like Arla®, Lurpak®, Puck® and Castello®. Arla Foods is focused on providing good dairy nourishment from sustainable farming and operations and is also the world's largest manufacturer of organic dairy products.
Press contact