Press release
Arla Foods signs deal to continue development of Nigerian dairy sector
Read time:

2 min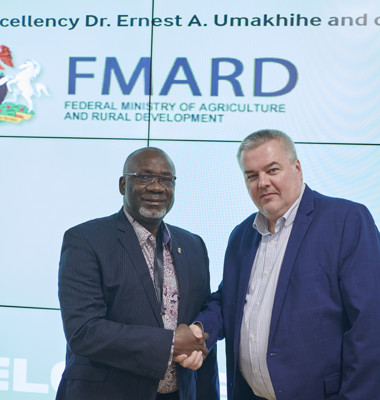 From left: Dr Ernest A. Umakhihe, Peder Pedersen
Published:

24 February 2023

Contacts:
Following years of an already successful partnership between European dairy cooperative Arla Foods and the Nigerian government, both parties recently signed a memorandum of understanding to continue their efforts and develop the Nigerian dairy sector even further.
The signing took place at the Arla Innovation Centre in Aarhus, where a delegation from The Federal Ministry of Agriculture and Rural Development led by Dr Ernest A. Umakhihe, along with representatives from Arla Foods, put pen to paper on a new 5-year agreement building on the foundation from the previous years.
In the new memorandum, the parties commit to developing the local dairy sector by promot-ing cooperative business structures among nomadic herders, offering training and knowledge-sharing opportunities, continuing product development and focus on sustainability and the creation of employment and better livelihoods for local dairy farmers.
"The Nigerian dairy sector has great potential and the combination of an entrepreneurial Nigeri-an mindset, a growing economy and our dairy farming expertise makes this a fruitful partnership for everyone involved. Being able to support the current demand with our products while at the same time contributing to the development of the local sector in a sustainable way is both practical and meaningful, and I am very happy that we have signed a new agreement," says Senior Director and head of Arla Nigeria Peder Pedersen.
The power of long-lasting partnerships
The Nigerian government and Arla Foods first entered a formal partnership in 2016 and have since created great results for the sector. And asked about the importance of being able to continue the partnership, the Permanent Secretary of The Federal Ministry of Agriculture and Rural Development, Dr Ernest A. Umakhihe, is clear:
"The continuation is very much key because you are looking at the possibility of making the collaboration more robust. Being able to open up new opportunities and at the same time cover existing gaps in our sector, which we and Arla Foods have identified together", he says and con-tinues:
"Signing a new 5-year agreement with Arla Foods bring a lot of opportunity for the Nigerian dairy industry as we continue to develop our sector exploring backwards integration and learning from one of the global leading players like Arla Foods," Dr Ernest A. Umakhihe says.
While visiting Denmark, the delegation made sure to stop by local Arla farmer owner Claus Fenger for a tour of his farm just south of Aarhus. Here they learned about how Claus works with sustainability and milk quality.
"I was very impressed with the farmer owner we visited. So much automation going on and I was really amazed by the level of professionalism and technology we experienced," Dr. Ernest A. Umakhihe says.
Besides working with the Nigerian government, Arla Foods is also involved in several other dairy development projects in the country. Amongst those are training sessions for local farmers in order to maximise the output and quality of their milk pool under the Milky Way partnership and the imminent opening of a state-of-the-art Arla-driven farm in Kaduna State.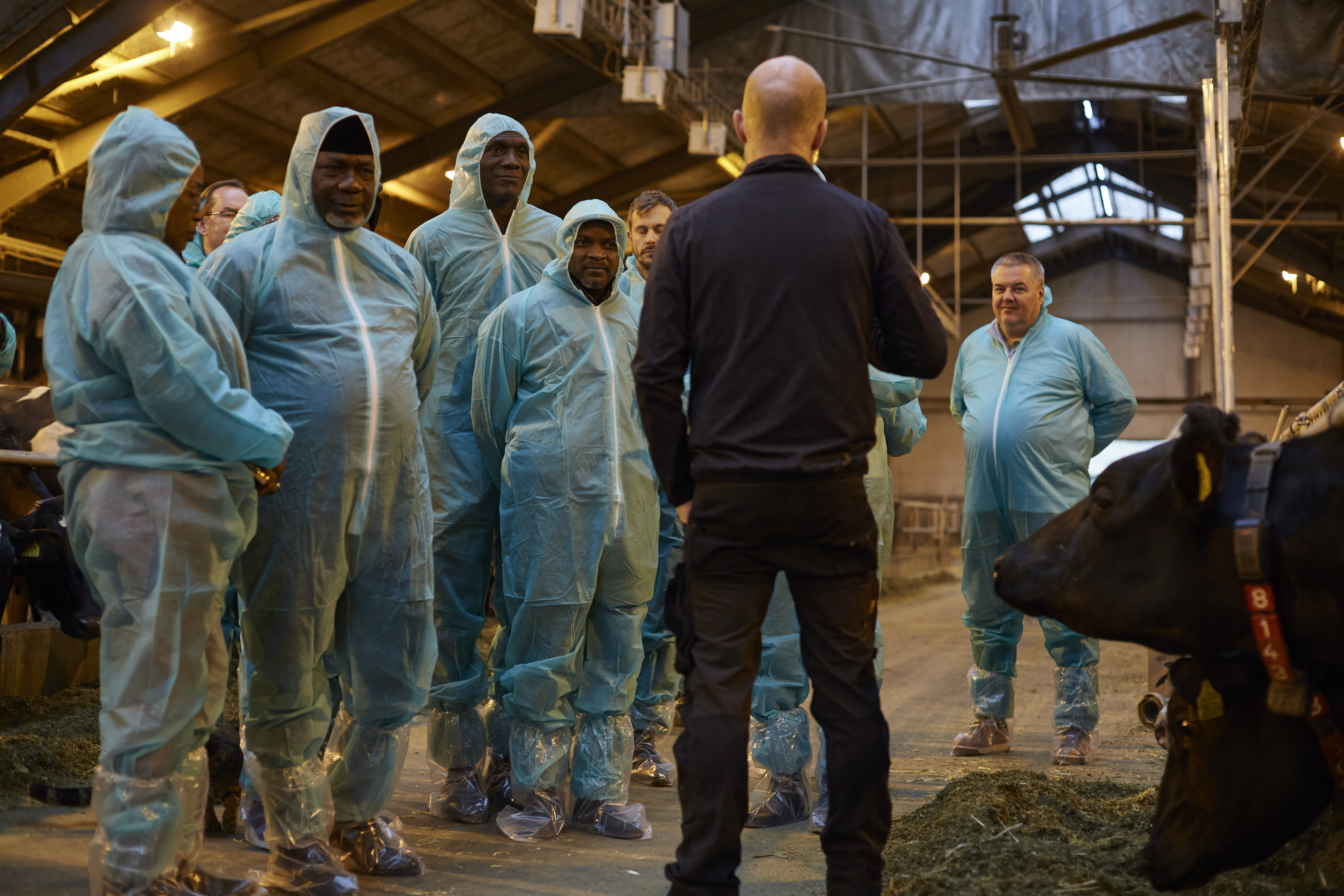 Arla Foods is an international dairy company owned by more than 8,400 farmers from Denmark, Sweden, the UK, Germany, Belgium, Luxembourg and the Netherlands. Arla Foods is one of the leading players in the international dairy arena with well-known brands like Arla®, Lurpak®, Puck® and Castello®. Arla Foods is focused on providing good dairy nourishment from sustainable farming and operations and is also the world's largest manufacturer of organic dairy products.
Press contact