Press release
Annual financial and sustainability report now published
Read time:

1 min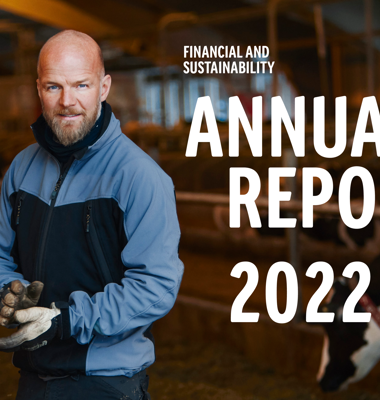 Annual financial and sustainability report now published
Published:

23 February 2023

Contacts:
Arla Foods' financial and sustainability report for 2022 is now published in full. For the first time, the report includes both the financial and sustainability reporting combining two previously separate reports in one.
The annual report includes statements from chairman Jan Toft Nørgaard, CEO Peder Tuborgh as well as key figures on both financial performance and sustainability. This was previously reported on in two separate publications but has now been pulled together in one annual report.
Find the report here: Report
Find previous CSR reports here: CSR reports
Arla Foods is an international dairy company owned by more than 8,400 farmers from Denmark, Sweden, the UK, Germany, Belgium, Luxembourg and the Netherlands. Arla Foods is one of the leading players in the international dairy arena with well-known brands like Arla®, Lurpak®, Puck® and Castello®. Arla Foods is focused on providing good dairy nourishment from sustainable farming and operations and is also the world's largest manufacturer of organic dairy products.
Press contact