Press release
Arla to pay out 207 million euros to farmer owners after proposal was approved
Read time:

1 min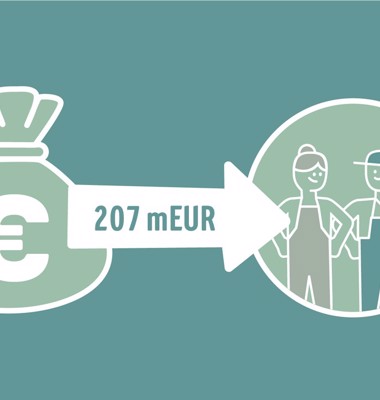 Arla to pay out 207 million euros to farmer owners after proposal was approved
Published:

24 February 2022

Contacts:
Arla's Board of Representatives has approved the proposal put forward by the Board of Directors to pay out 1.62 eurocent per kilogramme of milk in supplementary payment to all farmer owners.
With 165 votes for and 7 against, the Board of Representatives voted for the proposed 13th pay-ment of 1.62 eurocent per kilogramme of milk amounting to a total of EUR 207M including in-terest on individual retainment.
Arla's new retainment policy guarantees a supplementary payment of 1.5 eurocent per kilo-gramme of milk provided that the company secured a net profit of at least 2.8 per cent. The co-operative's financial position resulted in a net profit in 2021 of EUR 332M, corresponding to 3.0 per cent of Group revenue, which is why the Board of Directors proposed a higher supplemen-tary payment than guaranteed.
Commenting on the approval of the proposal, Chairman Jan Toft Nørgaard says:
"As a cooperative, we are pleased to be able to support our farmer owners who are challenged by the general inflation and increased costs on farm, applying our new retainment policy to re-turn more of the year's result for owners and provide opportunities for us to develop and future-proof our farms."
The Board of Representatives also approved an individual retainment of 0.33 eurocents per kil-ogramme of milk (EUR 42M). The rest of the profit (EUR 83M) is the common retainment which will be consolidated within the company as equity and for future investments.
Another proposal for higher supplementary payment of 2.0 eurocent was also put forth but the Board of Representatives ultimately decided to approve the proposal from the Board of Direc-tors.
The 13th payment will paid out to farmer owners in March.
Find more information on Arla's annual results for 2021 here: Link
Arla Foods is an international dairy company owned by more than 8,400 farmers from Denmark, Sweden, the UK, Germany, Belgium, Luxembourg and the Netherlands. Arla Foods is one of the leading players in the international dairy arena with well-known brands like Arla®, Lurpak®, Puck® and Castello®. Arla Foods is focused on providing good dairy nourishment from sustainable farming and operations and is also the world's largest manufacturer of organic dairy products.
Press contact