News
Industry-agreed standard of measuring carbon capturing in cattle farming now in place
Read time:

1 min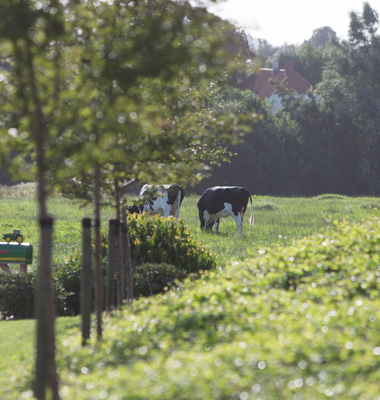 Industry-agreed standard of measuring carbon capturing in cattle farming now in place
Published:

14 September 2022
First set of guidelines for how carbon capture in plants and soil in cattle farming should be measured have been finalized and will become part of International Dairy Federation's overall methodology.
The C-Sequ project, initiated by Arla Foods and other food companies to develop an internation-ally recognised method for calculating carbon sequestration in cattle production systems, has now completed its work.
This week, the International Dairy Federation (IDF) adopted the principles into its methodology.
The C-Sequ project was initiated in 2018. Arla Foods was among the project's founding compa-nies along with Dairy Management Inc., Danone, Fonterra, FrieslandCampina, Mars, McDonalds, Nestle and Rabobank.
Together with the consultancy Quantis and involving a wide range of stakeholders and interna-tional experts in the area, the task has been to develop guidelines to be used across all cattle farming systems globally.
In 2020, the project group shared its draft guidelines for public review and feedback. Before be-ing finalized the principles have also been trialed in 50 on-farm pilots across a number of coun-tries.
Establishing a universally agreed method for quantifying how much carbon is stored in soil and plants on farm is an important step in Arla Foods' and its farmer owners sustainability journey, explains Anna Flysjö, Scientific Lead on Climate & Environment, who was Arla Foods' representa-tive in the C-Sequ project.
"Having the first set of robust and science-based principles, now adopted by IDF, is an major step in recognizing the important and positive role farming has in sequestering carbon both above and below ground. However, as this is a highly complex area in which science is continuously evolving, there is much work ahead before the principles are practically applicable."
As the principles mature, Arla Foods will continue to assess how they can best be included in the sustainability work to reward farmer owners for their actions and the positive role farming plays in relation to carbon capture.
What is carbon sequestration
CO2 from the atmosphere is bound in plants by photosynthesis as carbon biomass.
Some or all CO2 is released back to the atmosphere from the plants by respiration or af-ter the plant dies.
Cows eat plants and emit CO2 and methane (CH4). Methane is then broken down into CO2 in the atmosphere.
The carbon in roots and plant residues can be released back to the atmosphere as CO2 through natural decay processes