Press release
Arla signs global declaration to reduce climate impact from dairy farming
Read time:

2 min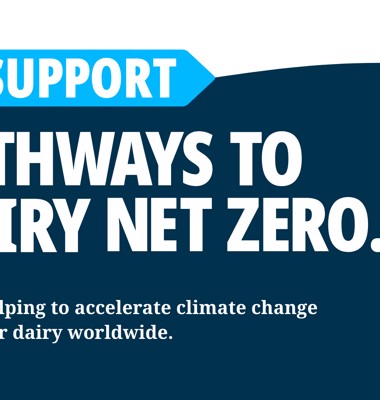 Arla signs global declaration to reduce climate impact from dairy farming
Published:

23 September 2021

Contacts:
Farmer-owned dairy co-operative, Arla is pledging its commitment to a new groundbreaking initiative together with other global businesses in the dairy industry to reduce greenhouse (GHG) emissions over the next 30 years. The initiative is called Pathways to Dairy Net Zero and is unlike any other climate effort in agriculture in terms of size, breadth, and scope and is supported by leading scientific and research organizations.
Pathways to Dairy Net Zero seeks to identify new opportunities for the dairy industry to take positive climate action. As part of the initiative it will be spearheading new research which will help to guide on direction and inform on different methodologies, tools and pathways to achieve Dairy Net Zero.
"Dairy plays a vital part of creating sustainable food systems across the globe, ensuring high quality nutrition for all, but it's essential the whole industry works together to accelerate climate action. We are incredibly proud that Arla is demonstrating its clear commitment to reducing climate change by signing up to this important initiative. The Dairy Net Zero declaration pledges our continued investment and research into innovative ways to reduce greenhouse emissions both on farm and throughout the supply chain. The Pathways to Dairy Net Zero directly supports Arla's journey and will amplify the efforts and initiatives we already have in place to accelerate climate action in the dairy industry," says Arla CEO Peder Tuborgh.
As one of the world's leading dairy co-operatives, Arla is well positioned to contribute positively and participate proactively to help solve the challenges the industry faces. As an example, in 2019, Arla announced a commitment to reach carbon net zero by 2050 and since then the business has introduced a number of innovations to improve climate efficiency.
One key programme has been the creation of a Climate Checks database – validated climate data sets from dairy farms which offer a clear view of where each farmer – and the business – stands on the sustainability scale, and crucially, what needs to be done to lower the carbon footprint. The data, collected from 8,126 farms across seven European countries confirmed that Arla farmers are among the most climate-efficient dairy farmers with an average 1,15 kg CO2e level per kilo of milk. Arla will use the data-driven learnings and insights through the Climate Check programme, to collaborate with peers in the global dairy industry and will share the results with the Pathways to Dairy Net Zero initiative.
Global Dairy Platform welcomes Arla's insights, knowledge and participation in the new initiative.
"For us all to be successful with Pathways to Dairy Net Zero we need to work together as an industry and share knowledge about best practices, said Donald Moore, Executive Director of Global Dairy Platform. "Arla has already set clear goals and ambitions for reducing climate impact and this initiative is about learning from leading companies like Arla to make dairying globally more sustainable," he added.
The Dairy Net Zero declaration is focused on six key principles:
Mitigation – Continuing to improve production and process efficiency to reduce greenhouse gas emissions.
GHG removals – Enhancing production processes that protect carbon sinks (soil, forests, grass and peatlands) and complement natural ecosystems.
Avoidance and adaptation – Improving practices such as feed, manure, fertilizer and energy management
Insets and offsets – Identifying and implementing alternative, credible reduction options
Measurement and monitoring – Measuring greenhouse gas emissions to plan mitigation and monitor progress
Overall support – Promoting the initiative and emphasizing the dairy sector's climate ambition
Arla Foods is an international dairy company owned by more than 8,900 farmers from Denmark, Sweden, the UK, Germany, Belgium, Luxembourg and the Netherlands. Arla Foods is one of the leading players in the international dairy arena with well-known brands like Arla®, Lurpak®, Puck® and Castello®. Arla Foods is focused on providing good dairy nourishment from sustainable farming and operations and is also the world's largest manufacturer of organic dairy products.
Press contact
Åse Andersson
Global Head of Media
Press contact for Arla Foods Group
aasan@arlafoods.com
+45 91 310 310
+45 89 38 10 00