Press release
Arla digs into Potential of Regenerative Dairy Farming
Read time:

7 min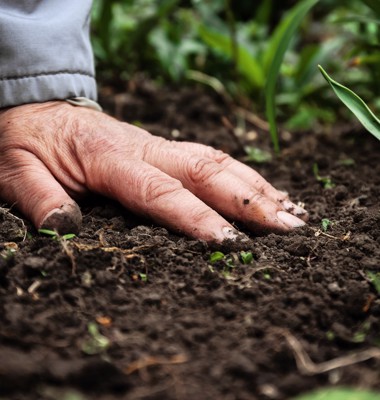 Arla digs into Potential of Regenerative Dairy Farming
Published:

20 September 2021

Contacts:
Arla Foods will explore regenerative dairy farming practices on 24 pilot farms and create data-driven proof points of their impact on nature and climate. At the same time more than 900 organic Arla farmers will measure their soil carbon content and register practices that promote biodiversity.
Dairy cooperative Arla Foods is taking two tangible, farmer-led steps to gain more data and knowledge of how dairy farming can help improve soil biology, carbon capture, water quality and biodiversity via regenerative farming methods.
The first step is to establish a pilot programme created in partnership with regenerative farming experts from FAI farms and other expert organisations. 24 selected pilot farmers across five countries will be trained and coached to implement various regenerative methods, and their learnings combined with data collection will build knowledge of how regenerative methods can be applied to different dairy farming systems in Europe and how they impact climate and nature.
The second step is a commitment from the cooperative's 916 organic farmers, who are responsible for an annual production of 1,000 million kg of organic milk, the world's largest organic milk pool.
Starting this year, they will self-assess and register their farm's biodiversity activities once every year to generate data. In addition to this, they will collect soil samples, which will be analysed by a third party laboratory to establish a baseline for their soil carbon. Furthermore, the organic farmers will guarantee that a number of soil health and biodiversity measures are activated on their farms. They will get access to a lever catalogue including information about how to measure and manage improvements. From 2022, they will also self-assess soil health indicators e.g. testing soil smell, spading ease, and earthworm counts.
"As a farmer-owned dairy cooperative, we have a huge interest in understanding how we can reduce the negative and maximise the positive impact of dairy farming. A number of farmers in our community have been exploring regenerative farming practices for some time and motivated by their enthusiasm, we decided to take a broader approach to this as a cooperative, spearheaded by the organic farmers and a group of pilot farmers," says member of Arla's Board of Directors Janne Hansson, who is also Chairman of Arla's Organic Chairman Council that has led the discussion on how the cooperative can engage in and scale regenerative dairy farming.
Need for definition and data
Regenerative agriculture has been gaining attention from producers, retailers, researchers, and consumers as one of the responses to the twin crises of climate change and biodiversity loss.
While there is a general consensus that improving soil health and biodiversity are core elements in regenerative farming, there is no universally agreed definition of the approach. Furthermore, there are very few scientific examples of regenerative methods being implemented on dairy livestock farms in Europe that farmers can use as guidance. Arla wants to be part of filling this important data gap using the experience and knowledge of its farmer owners.
"A central part of why we want to explore regenerative farming is to gain data-driven proof points of using regenerative methods on dairy farms. While we have full attention on reducing our negative impact, the positive impact we can create as stewards of the land has not yet been thoroughly scientifically proven and we want to secure more science-based knowledge to enable dairy farmers to take the right action for the future," says member of Arla's Board of Directors and Chairman of Arla's Organic Chairman Council Janne Hansson.
24 pilot farmers across five countries
To help explore and define the impact of regenerative dairy farming, 24 Arla farmers from the UK, Sweden, Germany, the Netherlands and Denmark have agreed to be pilot farmers for a period of four years. They are a mix of conventional farmers with both grazed and fully housed systems and organic farmers.
Arla's own farming experts and external experts from FAI Farms, a leading research, data and consultancy business within the agri-food sector, will train and coach the 24 pilot farmers to manage their farm regeneratively. The farmers will help gather data and assess various methods to understand what effect they can have on soil health, carbon capture, biodiversity, ecosystem processes, farm profitability, and farmer well-being.
At FAI Farms, Regenerative Agriculture Director Claire Hill is excited to be part of the project and to gain access to data from both the 24 pilot farms and from the soil samples from the 916 organic Arla farms.
"Arla is by far the biggest partner we have on regenerative farming within dairy. Their ambition level is going over and above anything we have seen so far in the industry and there is not a pilot programme out there with this depth. What's really exciting is that we will work with different farmers in different countries each working within a unique farm, and the data we will collect along the way will be so insightful. It can significantly increase our knowledge of what regenerative transition looks like, the challenges and benefits which will help us understand how more farmers can get started on their journey," says Clare Hill.
By having a mix of dairy systems and countries in the pilot farm network and making the tool, Arla aims to promote the results and learnings to inspire all 9,400 Arla farmers in the cooperative and share insights across the industry through collaborations with e.g. OP2B, C-SEQU and BIOCHAR.
Actions that all organic Arla farmers will implement in 2021:
On soil health:
A carbon assessment of the soil to create a baseline for measuring further improvements in the carbon level. The soil samples will be analysed by a third party laboratory for KPIs including: organic matter, organic carbon, total carbon, total nitrogen and Carbon:Nitrogen ratio.
A minimum of 5 out of 22 soil health measures must be in place on the farm.
From 2022: An annual self-assessment of soil health indicators e.g. by testing soil smell, spading ease, and earthworm counts.
On biodiversity:
An annual self-assessment of activities in four biodiversity conservation areas.
A minimum of 7 out of 33 biodiversity conservation measures must be in place on the farm.
Read more about it here.
With the new network of 24 pilot farms across FIVE countries, Arla aims to:
Provide all pilot farms with training and one to one support from regenerative agriculture industry experts.
Measure, track, and document the impact of regenerative farming practices on pilot farm ecosystems
Understand and document any behavioural changes of pilot farm members
Build the understanding currently lacking in dairy production systems of what it means and looks like to farm regeneratively, learning within the context of a variety of management systems and countries
Share knowledge and learnings through roundtable discussions, case studies and project progress reports
Combine farmer knowledge with external experts to identify common regenerative principles and practices that could be adopted at scale by Arla farmers.
FAO's view on the benefits of soil health and biodiversity
According to The Food and Agriculture Organization of the United Nations (FAO), soil organisms and biodiversity could be a nature-based solution to many of the problems that humanity is facing today - including the provision of healthy food and the improvement of agricultural production, water filtration and carbon sequestration. FAO also suggest that it can enhance soil fertility, agricultural production, and environmental sustainability.
Arla's engagement in industry collaborations
Besides the partnership with FAI Farms on regenerative farming, Arla is engaged in the following industry collaborations to help understand, develop and maximise the positive impact of soil health, biodiversity and carbon sequestration through dairy farming:
OP2B: Improve biodiversity
In 2020, Arla joined One Planet Business for Biodiversity (OP2B), an international cross-sectorial, action-oriented business coalition on biodiversity with a specific focus on agriculture. The coalition is determined to drive transformational systemic change and catalyse action to protect and restore cultivated and natural biodiversity within the value chains.
C-SEQU: Develop carbon sequestration calculation
Arla is part of a project called C-Sequ with other dairy and livestock organisations to develop an internationally recognised and globally adopted carbon sequestration calculation method to be used in carbon footprint assessments at farm level. The ultimate deliverable is to have a method that will support and encourage farmers to adopt and implement activities and practices that promote carbon sequestration and thereby mitigate climate change.
BIOCHAR: Store carbon in farm soil
Arla is one of eight organisations in a consortium that has been awarded funding as a part of the UK government's Direct Air Capture and Greenhouse Gas Removal Technologies competition. The project will test the feasibility of using biochar commercially in agriculture. The consortium believes that if this could be achieved and biochar became commonly used across agriculture, it could result in significant amounts of carbon being removed from the atmosphere and stored in farm soils for centuries, whilst also supporting good soil health.
Arla Foods is an international dairy company owned by more than 8,400 farmers from Denmark, Sweden, the UK, Germany, Belgium, Luxembourg and the Netherlands. Arla Foods is one of the leading players in the international dairy arena with well-known brands like Arla®, Lurpak®, Puck® and Castello®. Arla Foods is focused on providing good dairy nourishment from sustainable farming and operations and is also the world's largest manufacturer of organic dairy products.
Press contact