Press release
Urgent need for Brexit deal to avoid disruption and food price hikes
Read time:

3 min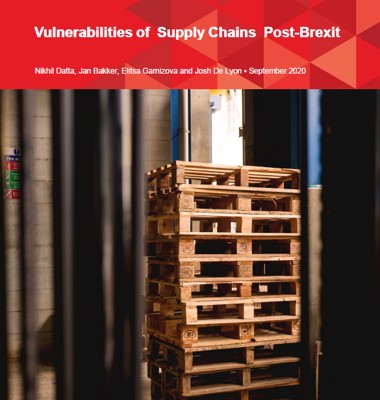 Urgent need for Brexit deal to avoid disruption and food price hikes
Published:

23 September 2020

Contacts:
A new report from the London School of Economics (LSE), commissioned by leading dairy co-operative Arla Foods, has concluded that without practical action by the UK government and EU, the food sector and consumers on both sides will be badly impacted after the Brexit transition period ends. But there are ways that the UK and EU can work together to minimise disruption after 1 January 2021.
The Vulnerabilities of Supply Chains Post-Brexit report, which has been produced by LSE Consulting's Trade Policy Hub, outlines just how interlinked the food sectors in the UK and EU are. At present, a total of 40 percent of agricultural and food products consumed by households and businesses in the UK are imported from the EU. In the dairy sector, 15 percent of all products sold are imported into the UK, and 99 percent of this currently comes from the EU.
A no-deal departure, with high tariffs, will hike up the prices of many products; and even with a deal, non-tariff barriers such as increased paperwork and customs checks will have a major impact, increasing prices and reducing product availability. These changes will flow back through the supply chain and effect EU food producers and processors. The report finds that countries like Denmark, Spain, Netherlands, Belgium, France, Italy, Greece, Cyprus and Ireland are all estimated to see a fall in food exports to the UK.
According to the report, the impact of no deal Brexit will disproportionally affect the food and beverage sector, seeing average tariffs rise from 0% to 17.7% for EU exports to the UK, which is more than 4 times other sectors.
"Arla Foods has consistently advocated for as free a trade as possible once the UK leaves the EU. This is the best outcome for the European food and beverage sector - including dairy. There is a risk that in a no deal scenario, the UK market for EU dairy will be significantly impacted,"
says Peter Giørtz-Carlsen, EVP Europe and Member of the Executive Board Arla Foods
No deal will also impact EU consumers
But EU consumers will also feel the impact. The report finds that average prices for UK branded products imported into the EU will increase by 27.9% under a no deal and unbranded UK products to the EU will increase by 13.2%.
This issue is not limited to products on supermarket shelves but also affects agricultural production. Major inputs into the production and manufacturing of food will also be affected. 69 percent of some aluminium products, 65 percent of certain pharmaceutical goods and 51 percent of many fertilisers are imported to the UK from the EU. These products are likely to become more expensive due to additional costs from tariffs and non-tariff barriers.
A solution is possible
However, the report makes clear that a way out of this situation is in reach. A trade deal for food and drink would deliver major benefits to UK and EU consumers. And even if a deal is reached, the EU and UK should avoid the creation of new non-tariff barriers and custom requirements, particularly for perishable goods.
"This report shows how integrated the UK-EU food supply chain is and the mutual benefits both sides get from this. Because of this free trade, UK and EU consumers have access to a large choice of high quality, affordable products. We want to ensure this continues after the 31st December 2020 and we know consumers expect this as well. But for this to happen, it is essential we secure a tariff-free agreement. And it is vital too that the UK Government, EU and Member States take pragmatic and sensible steps to limit the impact of non-tariff barriers," explains Peter Giørtz-Carlsen, EVP Europe and Member of the Executive Board Arla Foods
"Tariffs imposed on food and drink are typically very high, so the impacts of a no-deal Brexit will inevitably have profound effects on customer choice. Even with risk management strategies in place, no-deal will have significant impact on the fresh foods sector and these need to be considered by policy-makers in the coming weeks," says Dr Elitsa Garnizova, Lead of the Trade Policy Hub and one of the authors of the report
Long-term strategies are needed
The report also takes a longer-term perspective, showing that whatever deal is done and whatever steps are taken, flows of food and drink products to and from the United Kingdom and EU are set to change significantly over the coming years. The report highlights that while long term strategies of market and product diversification may help the food industry rebalance, in the short term there is a risk of oversupply in the EU of products normally exported to the UK such as beef, sheep, pigs and dairy. It calls for the UK Government and EU to take a strategic approach, working across the value chain to address the challenges and harness the opportunities that arise to ensure that farmers, consumers and the food industry all benefit from what happens once the UK is fully out of the European Union.
The Vulnerabilities of Supply Chains Post-Brexit report can be accessed here: https://www.lse.ac.uk/business-and-consultancy/consulting/consulting-reports/vulnerabilities-of-supply-chains-post-brexit
Arla Foods is an international dairy company owned by 9,400 farmers from Denmark, Sweden, the UK, Germany, Belgium, Luxembourg and the Netherlands. Arla Foods is one of the leading players in the international dairy arena with well-known brands like Arla®, Lurpak®, Puck® and Castello®. Arla Foods is focused on providing good dairy nourishment from sustainable farming and operations and is also the world's largest manufacturer of organic dairy products.
Press contact
Åse Andersson
Global Head of Media
Press contact for Arla Foods Group
aasan@arlafoods.com
+45 91 310 310
+45 89 38 10 00