Press release
Empowering chefs to put more flexitarian options on the table
Read time:

2 min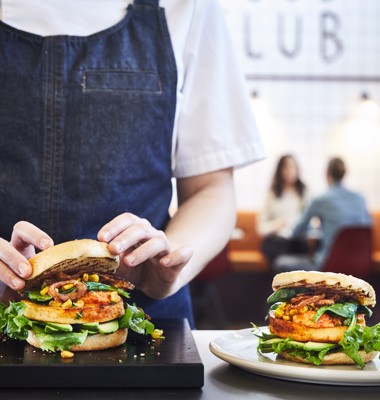 Arla Pro Grilling Cheese is a new type of cooking cheese, which is a tasty and highly versatile alternative to not only meat but also tofu and other cooking cheeses like Halloumi or Paneer.
Published:

20 February 2020

Contacts:
With an innovative non-melting cheese, Arla® Pro is tapping into one of the fastest growing culinary trends today.
Dining in a restaurant more and more consumers are scanning the menu cards for new alternative dishes. They want the freedom to choose between delicious meat-based courses and tasty vegetarian dishes.
As many as 22.8 million Americans identify themselves as flexitarians . In Sweden, one in three follows a flexitarian diet, opting for vegetarian food at least once a week . And in the UK, one third of all evening meals are meat-free .
With the launch of the new Grilling Cheese, Arla® Pro is now helping chefs across five European markets to put more flexitarian choices on their menus. Grilling Cheese is a new type of cooking cheese, which is a tasty and highly versatile alternative to not only meat but also tofu and other cooking cheeses like Halloumi or Paneer.
"Grilling Cheese is easy to cut, cook and season, giving chefs complete freedom to make the meat-free dishes that their customers crave. From burgers and wraps to salads and hot dishes", says David Field, Global Head of Arla Foodservice.
He points out the great potential for restaurants and chefs to tap into the growing flexitarian trend without compromising on taste.
"Cheese and dairy fit very well into the flexitarian diet because it's a natural source of protein and calcium. Besides that, there is a big demand from consumers for simple and fulfilling products made from as few ingredients as possible without adding unnatural flavours or stabilisers. Grilling Cheese is made from milk, rennet and a dash of salt. It's a simple, simple product" David Field, Global Head of Arla Foodservice
Get the story behind Arla Pro Grilling Cheese:
Made by professionals for professionals
But simplicity does not come easy, it requires great dedication and skill. To develop this new non-melting cooking cheese, some of the most skilled dairy experts in Arla were brought together. Together with our lead market Sweden and in collaboration with chefs from all over Europe prototype after prototype was created, tested and refined.
"We've been fortunate to work with some of the finest chefs from all over Europe and this collaborative approach has certainly paid off. New processes and production methods have been applied. And we have tested and fine-tuned every aspect of the cheese. From the taste and texture to the sound it makes when you bite into it", David Field tells.
Grilling Cheese comes in two flavours that each bring their own unique set of benefits to the table, Plain and Mild Smoked Chilli. Launched in the UK, Sweden, Germany, France, and Denmark.
"The Flexitarian trend is growing, and we see, with our dairy capability, that we can bring many more products and solutions to our customers to enable them to innovate and differentiate themselves. We are already working on the next generation of flexitarian products," David Field says.
In 2019, Arla® Pro also created Crispy Cheese together with the world's largest restaurant chain, McDonald's, as a new alternative on the burger menu in Sweden. It was such a success it was sold out after a few days. McDonald's relaunched the product in January this year and the success continuous.
What is a flexitarian?
Being flexitarian means having the freedom to choose between meat-based and vegetarian dishes.
About Arla® Pro and Foodservice
Arla® Pro is the brand behind Arla's dedicated food service business with over 100 employees within sales, marketing, channel and application specialists. Every day they deliver high quality natural dairy products and solutions to professional kitchens around the world.
Arla Foods is an international dairy company owned by 9,400 farmers from Denmark, Sweden, the UK, Germany, Belgium, Luxembourg and the Netherlands. Arla Foods is one of the leading players in the international dairy arena with well-known brands like Arla®, Lurpak®, Puck® and Castello®. Arla Foods is focused on providing good dairy nourishment from sustainable farming and operations and is also the world's largest manufacturer of organic dairy products.
Press contact
Åse Andersson
Global Head of Media
Press contact for Arla Foods Group
aasan@arlafoods.com
+45 91 310 310
+45 89 38 10 00
Pernille Bonne Nejsig
Press and Communication specialist
Press contact for Arla Foods Group
perne@arlafoods.com
+45 91311232
+45 89 38 10 00