Press release
​Empowering Bangladeshi women to bike nutrition to their nation
Read time:

3 min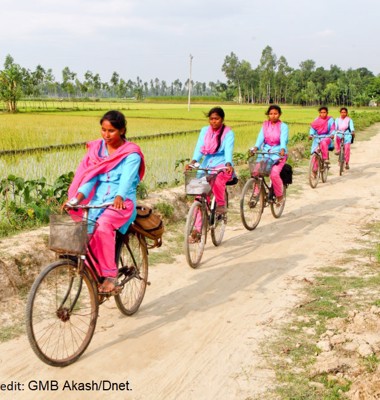 ​Empowering Bangladeshi women to bike nutrition to their nation
Published:

08 March 2019

Contacts:
Arla Foods is shining the light of a growing team of innovative, empowered female microentrepreneurs in Bangladesh, who are generating their own income while taking a nutritious, affordable dairy product to rural regions.
Since beginning its business in Bangladesh, in 1961, Arla's sights have been set on leading the powdered milk category. With its Dano brand, it now holds the number one position in the market for brand awareness and is the second most popular milk powder brand.
Growth isn't Arla's only agenda. In a country in which 56 per cent of children are underweight and malnutrition is prevalent, Arla is determined to give everyone access to affordable, nutritious dairy products.
This was the inspiration behind the development of Dano® Daily Pushti. Fortified filled milk powder, in 20 gram sachets, at an affordable price. The first product of its kind in Bangladesh.
The launch was a big success. Reaching consumers in the country's cities proved straightforward but with almost 70 per cent of the population residing in the rural and remote areas, coupled with poor infrastructures and limited distribution networks, an innovative, alternative sales model was called for.
Lifting women out of poverty
Equipped with a bicycle and with a tablet and Dano Daily Pushti sachets in their backpacks, a growing team of female microentrepreneurs is being enabled to reach people in rural parts of the country, cycling from village to village.
These determined, driven women are not only gaining knowledge and an accreditation through training, crucially, they are securing a reliable income, helping lift them out of poverty.
They are known as Arla's Pushti ambassadors and, as well as selling products, the women conduct courtyard sessions to educate people about health and milk nutrition generally.
The ambassadors are being mobilised through Arla's partnerships with Dutch-based NGO BoP Innovation Centre and in Bangladeshi with NGO dNet and social enterprise, iSocial.
Of her experience of being a Pushti ambassador, Rebaka Khatun, says: "It gives me immense pleasure and great fulfilment that I'm giving back to society and helping my own community. It gives me great pride that I am well respected both in my family and my community."
A similar sentiment, which sings straight into the theme of this year's International Women's Day - #BalanceforBetter - is expressed by Baby Bagum, also a Pushti ambassador: "For Bangladesh to progress, women have to step out of the house. A women's job is not only to cook. For Bangladesh to prosper we have to get out in the field."
Rebaka agrees, adding: "I'm a big believer that if a man can do it, why not me? I want to show to everyone that we are equal."
Arla's Dano Daily Pushti sales force is 200-strong today. By 2022, the company, together with partners, aims to have empowered 5,000 female microentrepreneurs to generate their own income and reach nearly two million new rural Bangladeshi consumers.
Adding to the baskets of the ambassadors
Tim Ørting Jørgensen, executive vice president and head of Arla's International Zone, explains that the motivation for the company to be involved lies at the heart of its vision and strategy.
"We are committed to contributing positively to the societies in which we operate, behaving responsibly is an inherent part of Arla's culture. We recognise the opportunity we have to help address Bangladesh's high rates of malnutrition and to do so in a sustainable way, whilst having the additional benefit of creating employment opportunities for 5,000 female micro-entrepreneurs over the next four years.
Tim continues: "The Pushti Ambassador Partnership is also directly aligned to several of the UN's sustainable development goals, which form the framework for our sustainability work. For example, it gives the women new skills, training and a sustainable source of income.
"Today, Bangladeshi families who previously couldn't afford to consume milk, are now able to drink it on a regular basis. We are delighted to be playing a key role and the success of Dano Daily Pushti is inspiring us to develop new, nutritious products for low income consumers to add to the baskets of our ambassadors."
Arla Foods is an international dairy company owned by more than 8,400 farmers from Denmark, Sweden, the UK, Germany, Belgium, Luxembourg and the Netherlands. Arla Foods is one of the leading players in the international dairy arena with well-known brands like Arla®, Lurpak®, Puck® and Castello®. Arla Foods is focused on providing good dairy nourishment from sustainable farming and operations and is also the world's largest manufacturer of organic dairy products.
Press contact