News
Use your senses to cut the holiday season food waste
Read time:

1 min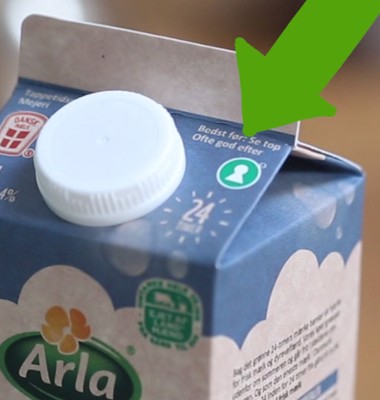 "Best before, Often good after" labelling on Arla's milk cartons in Denmark.
Published:

18 December 2019
It's the time of year to indulge the senses. This year use them to make sure you use up all the extra food you buy during the holiday season and stop food waste being the unwanted gift.
Look, smell, taste, is the call from dairy cooperative Arla Foods, which is taking a pan-European approach to tackling food waste all year round.
Recognising that many consumers in its core markets of the UK, Denmark, Sweden and Germany, are left bewildered by food labels and unnecessarily bin perfectly fine food, it is advocating for consumers to use their senses and common sense, while also introducing new approaches to how it labels its dairy products.
Germany is its latest market to announce it is launching an 'often good after' label in addition to the best before date, starting with Arla Skyr in February next year. It is following in the footsteps of Arla's Danish and Swedish markets, which are already using the additional label. In the UK, it's making a switch from 'use by' to 'best before', starting with branded fresh milk.
"We know how much of our farmer owners' hard work goes into producing milk to Arla's high quality standards and we want consumers to enjoy every last drop or mouthful. By working with the labels we aim to give them the confidence that their dairy products may still be ok for a few days after the best before date, especially if they have been stored at the correct temperature," explains Anna-Karin Modin Edman, Senior Sustainability Manager in Arla.
"We really want to spread this message to consumers, and it's particularly important at this time of the year when people traditionally risk buying more than they can consume," Anna-Karin adds.
Facts
Arla's target is to halve the food waste in its own operations by 2030, with 2015 as a baseline, and it's an important part of the journey towards Carbon Net Zero dairy in 2050.
These initiatives also tie directly into our commitment and contribution to the UN Sustainable Development Goal 12.3, which is to halve food waste at retail and consumer level and to reduce it as much as possible in the rest of the food value chain until 2030.