News
Finding what doesn't exist
Read time:

2 min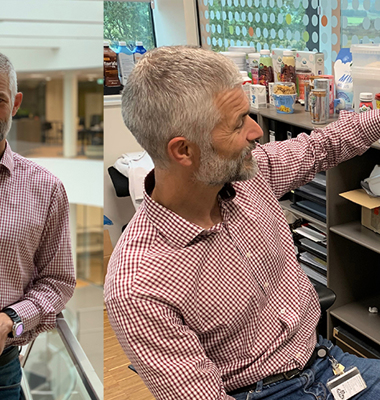 Grane Maaløe, Global Packaging Development Manager in Arla Foods
Published:

30 October 2019
A more sustainable future isn't going to happen on its own. Meet Grane Maaløe, Global Packaging Development Manager in Arla. With 20 years of experience, he is one of many dedicated colleagues working to develop the next generation of environmentally friendly packaging solutions.
"This is exactly what makes my job so cool! I get to delve into packaging to understand how we make the best use of our materials, and how we can develop, optimise and recycle our packaging in the most sustainable way. It's really exciting," says an enthusiastic Grane Maaløe when asked to sum up his daily work with packaging in a few words.
With customers and consumers increasingly demanding that the packaging of the future is eco-friendly and low in plastic, he describes the mission of him and his colleagues as finding the solutions that they don't yet know.
"We're looking into every possible option to find the most sustainable way forward. I liken it to walking through a dark forest and looking for the path that can lead you safely to the other side, with lots of twists and turns along the way. We'll have to flip every stone and uncover every opportunity – even if those opportunities don't become a reality. Fortunately, I'm surrounded by many extremely talented colleagues! I'm a small cog in a large machine," says Grane.
Driven by interest
Grane is a mechanical engineer specialising in plastics. He began his career in Arla more than 20 years ago as a packaging developer in the cream and processed cheese department. He's since worked in several other departments and helped to develop much of the packaging we know today.
"What drives me is my personal interest in this field. Once I've cracked one code, I move on to the next and it is so satisfying when you hit on something new and exciting that we can benefit from," says Grane.
A stronger focus on sustainable alternatives
Previously, the majority of Grane's daily work focused on launching new products. Today, sustainability and packaging optimisation is the clear number one priority. A recent example is the development of yogurt pots made out of paper for Slagelse Dairy in Denmark. Grane and the team have succeeded in reducing the carbon footprint of the new pots by almost 60 per cent compared to their plastic predecessors.
"Our plastic consumption used to be 12-13 grams per pot – now we're down to just three grams. I was the manager of the project, and I'm particularly proud of what we achieved," says Grane.
Several challenges will be occupying Grane's time in the near future, in particular bioplastic and the transition from plastic to paper. He also emphasises the ongoing work to find a sustainable alternative to plastic straws and spoons.
"There is a lot going on, but I'm not complaining – that's when I'm in my element," says Grane.
Sustainable Packaging Strategy
Arla's sustainable packaging strategy is targeting a CO2 reduction of 30 per cent by 2030
The ultimate aim is for all its packaging to be carbon net zero by 2050, in line with its overall climate ambition to become carbon net zero by 2050.