Press release
Starbucks extends strategic partnership with Arla Foods to grow ready-to-drink across EMEA
Read time:

1 min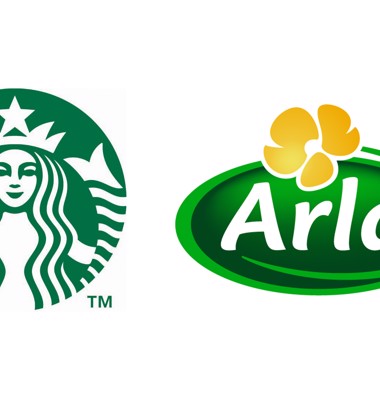 Starbucks extends strategic partnership with Arla Foods to grow ready-to-drink across EMEA
Published:

07 June 2018

Contacts:
After seven years of a successful business partnership, Starbucks has signed a new strategic licensing agreement with the farmer-owned dairy cooperative Arla Foods. The two companies have signed a long-term 21-year strategic agreement, giving Arla Foods license to continue to manufacture, distribute and market Starbucks premium milk-based ready-to-drink (RTD) coffee beverages for the EMEA region (Europe, Middle East and Africa).
Duncan Moir, Vice President of Channel Development and Foodservice, Starbucks EMEA, says: "The strength of our relationship with Arla Foods over the past seven years has seen our RTD business grow by an average of 40% per year across EMEA. This new licensing agreement signals our commitment to continue to work together to grow the business within the ready-to-drink sector, and we are proud to be working alongside Arla Foods."
Commenting on the agreement, Hanne Søndergaard, Executive Vice President and CMO at Arla Foods, says: "We are proud to take another step in our partnership with Starbucks, bringing great tasting Starbucks ready-to-drink coffee beverages to consumers across Europe and the Middle East while adding value to our farmers' milk. The partnership combines Arla's extensive experience in manufacturing dairy beverages and our widespread distribution network with Starbucks unique coffee expertise. Consumers in the EMEA region have welcomed the great taste and premium nature of the beverages, and we remain committed to working closely with Starbucks on developing and growing the category in the future."
Opportunities within milk-based beverages is an important focus area in Arla's Good Growth 2020 strategy.
"It is our ambition to be a leading provider of milk-based beverages in Northern Europe, Asia, the Middle East and Northern Africa in 2020 and the new strategic licensing agreement makes the Starbucks partnership a vital part of delivering on this target and we believe that innovation is the key to future success. Our recent launches of new Starbucks Double Shot products are great examples of our joint commitment to innovation and to consumers," Hanne Søndergaard says.
In 2010 Starbucks chose Arla Foods as its license partner to manufacture, distribute and market its milk-based ready-to-drink coffee beverages for supermarkets and convenience stores across the EMEA region. Arla expects to continue to further extend its reach to meet consumer needs. Ever since Starbucks chose Arla Foods as its licensed partner in 2010 the business has grown by an average of 40% each year.
By 2018 Arla launched Starbucks beverages in 38 countries across EMEA and expects to sell over 110 million units per year. The products are produced at Arla Foods' sites in Esbjerg, Denmark and are made from milk from Arla Foods' 11,200 farmer-owners and 100% arabica, ethically sourced coffee from Starbucks Coffee Company.
Further details on the agreement will not be disclosed.
Arla Foods is an international dairy company owned by more than 8,400 farmers from Denmark, Sweden, the UK, Germany, Belgium, Luxembourg and the Netherlands. Arla Foods is one of the leading players in the international dairy arena with well-known brands like Arla®, Lurpak®, Puck® and Castello®. Arla Foods is focused on providing good dairy nourishment from sustainable farming and operations and is also the world's largest manufacturer of organic dairy products.
Press contact