Press release
Lurpak® triumphs at British Arrows Awards
Read time:

1 min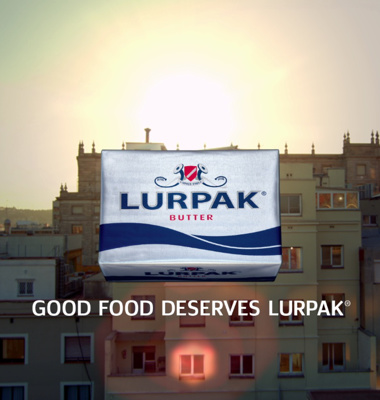 Lurpak® triumphs at British Arrows Awards
Published:

28 March 2014

Contacts:
The Lurpak® "Weave Your Magic" campaign has won a British Arrows award for the best International campaign. British Arrows Awards is one of the UK's most prestigious advertising recognitions.
Arla's premium butter brand, Lurpak®, triumphed in the international category of the British Arrows Awards. The award for the Lurpak® 'Weave your Magic' campaign stands as a proof that Lurpak® understands how passionate consumers really are about food.
"We are very proud that Lurpak® can play – and win – against other well-known global brands. Our goal was to inspire the food lovers worldwide and to celebrate the position of Lurpak® as a champion of good food around the world," says Laurence Fischer, Vice President and responsible for Arla's Global BSM category, including Lurpak®.
The success is a very important step towards Arla's goal of positioning Lurpak® as a truly global brand.
The award in the international category was made possible as a result of the excellent strategic work done by the Lurpak® team and the outstanding craft done by the agency Wieden+Kenedy.
Also nominated in the international category were global brands such as Vodafone, Eurostar (high-speed railway service) and Unilever's personal care brand, Dove.
Watch the TV commercial from the Lurpak® 'Weave Your Magic" campaign on YouTube.
Facts about Lurpak®:
• Lurpak®is a premium brand and one of the world's most famous butter and spreads brands made from fresh Danish cream
• The brand has roots that go back to 1901 and since then, it has set the standards for consistently high quality and superior taste
• Lurpak® is realizing strong growth both in Europe and in the Middle East and Arla's goal is to increase the volume of Lurpak® by 5 per cent in 2014
Facts about the British Arrows:
• The British Arrows Awards, aka British Television Advertising Awards, were established in 1976 to recognise and reward the best television, online, outdoor and cinema commercials made by British advertising agencies and production companies.
• The ceremony took place in London on the evening of 26th March 2014, and was hosted by comedian Jack Whitehall.
Arla Foods is an international dairy company owned by 9,700 farmers from Denmark, Sweden, the UK, Germany, Belgium, Luxembourg and the Netherlands. Arla Foods is one of the leading players in the international dairy arena with well-known brands like Arla®, Lurpak®, Puck® and Castello®. Arla Foods is focused on providing good dairy nourishment from sustainable farming and operations and is also the world's largest manufacturer of organic dairy products.
Press contact
Åse Andersson
Head of Media
Press contact for Arla Foods Group
aasan@arlafoods.com
+45 91 310 310
+45 89 38 10 00
Carina Østergaard
Corporate Communication Manager
Press contact for Arla Foods Group
caoes@arlafoods.com
+45 91 31 16 01
+45 89 38 10 00