Press release
Arla sharpens focus on premium speciality cheese in USA
Read time:

1 min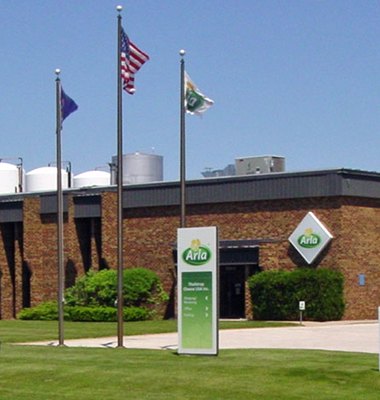 Arla sharpens focus on premium speciality cheese in USA
Published:

15 August 2012

Contacts:
Arla Foods USA is focusing its efforts on premium speciality cheese under the Castello® brand and on establishing a sound platform for developing the US market for particularly high quality cheese.
"We have some fantastic cheeses from our dairies in Europe and we believe we will have a unique role to play when it comes to the American speciality cheese market," says the head of Arla Foods USA, Susie Møller Hjorth.
"It means, however, that we need to focus our resources, which is why we have decided to withdraw our locally produced blue range under the Saga® brand from the market. Consequently, we are closing our dairy in Muskegon, Michigan."
The remaining production at Arla's dairy in Muskegon will be moved to Denmark where production will be more efficient owing to the fact that it will be part of the total production for Arla's global markets.
In the future Arla Foods USA plans to focus on Castello® with an expanded range which includes Havarti cheese and cheese from Allgaüland in the German Alps. Saga® Blue Brie, which has been sold in the US market for 30 years, will continue under the Castello® brand. Castello® Soft Blue will also continue.
Production at Hollandtown unaffected
The decision will take effect in the US market from 2013 and will only affect production of mould cheese. The production of yellow cheese at Arla's other US dairy in Hollandtown, Wisconsin is unaffected.
The transfer of production from Muskegon to Denmark will begin in the upcoming autumn. Production at Muskegon dairy will stop at the end of 2012.
Facts about Arla's production in the US:
Hollandtown Dairy in Wisconsin
Established in 1897.
1998: the dairy started up licensed production for Arla Foods.
2006: Arla Foods purchased White Clover Dairy.
Employees: 150
Production: Havarti, Gouda, Edam, Fontina, Muenster
Muskegon Dairy in Michigan – to close on 31 December 2012
Established in 1986.
2006: Arla Foods acquired the dairy through the purchase of Tholstrup Cheese, which owned the dairy.
Employees: 20
Production: Blue brie, Castello® soft blue, brie, camembert
Arla Foods is an international dairy company owned by 9,700 farmers from Denmark, Sweden, the UK, Germany, Belgium, Luxembourg and the Netherlands. Arla Foods is one of the leading players in the international dairy arena with well-known brands like Arla®, Lurpak®, Puck® and Castello®. Arla Foods is focused on providing good dairy nourishment from sustainable farming and operations and is also the world's largest manufacturer of organic dairy products.
Press contact
Åse Andersson
Head of Media
Press contact for Arla Foods in Denmark
aasan@arlafoods.com
+45 91 310 310
+45 89 38 10 00
Carina Østergaard
Corporate Communication Manager
Press contact for Arla Foods International
caoes@arlafoods.com
+45 91 31 16 01
+45 89 38 10 00