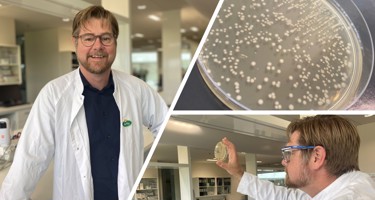 Food Scientist in Arla, Simon Metz Mariendal Pedersen, explains the role of bacteria in fermented milk products
If fermentation of milk was a Hollywood movie, bacteria would play the lead role. They are essential for making yoghurt and other fermented milk products. But what exactly do bacteria do? And how do we make sure it is the good bacteria and not the bad bacteria that end up in the yoghurt we eat for breakfast?
Read on as Simon Metz Mariendal Pedersen, Food Scientist in Arla Foods explains the aspects of bacteria and cultures in fermented milk products. He has spent countless hours looking at bacteria and studying how they behave in dairy products.
In this article, he will give you the answers to the following:
What types of bacteria and cultures are added to milk products?
How do bacteria in yoghurt and fermented milk products work?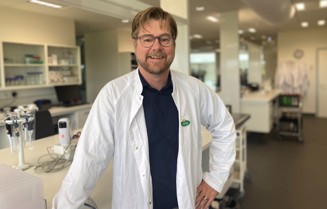 What types of bacteria and cultures are added to milk products?
Let's start by saying; The words "bacteria" and "cultures" covers a lot of the same ground.
Bacteria are a certain type of microorganism. Cultures are specific microorganisms grown individually or together.
Trillions of bacteria live all over the human body, both outside and inside. Some bacteria have a bad reputation as they can cause diseases and infections, but most of them live peacefully side by side and in synergy with the cells of your body.
When we add bacteria to milk products, we refer to them as cultures and we use those with a good reputation. They are called lactic acid bacteria or lactic acid cultures.
The best known are the two that are used to make yoghurt:
Streptococcus thermophilus
Lactobacillus bulgaricus
It is said that the yoghurt process and the two cultures originated in Turkey. However, we also have a long tradition of fermented dairy products in Northern Europe. When we create products like sour milk, 'ymer', 'tykmælk', buttermilk and the like in Arla, we use cultures that are tradi-tionally Nordic. They have a different aroma profile and taste to yoghurt.
These are some of the Nordic cultures we use in Arla:
Lactococcus cremoris
Lactococcus lactis
Lactococcus diacetylactis
Leuconostoc
Did that make your tongue twist? It's no wonder!
Hear Simon pronounce some of the names of the cultures in this video:
How do bacteria in yoghurt and fermented milk products work?
To start the fermentation process of milk products, we add a specific combination of lactic acid cultures depending on what type of fermented product we want to produce. They are also called 'starter cultures'.
The cultures change the taste and texture
Depending on which cultures we use, they will produce different aroma compounds in different amounts. In other words, the flavours of the fermented milk are like a fingerprint of the cultures.
On top of this, the cultures causes the proteins in the milk to curdle, which creates a thick, creamy texture.
Temperature and time determine the product
To make it even more complex, the same cultures can produce different end products depending on the temperature at which it is fermented and the length of the fermentation.
If we use yoghurt cultures, the fermentation process will normally happen between 35-42 de-grees Celsius and take between 4-12 hours.
Whereas with Nordic cultures, the fermentation process takes a bit longer, between 15-18 hours because this happens at lower temperatures around 20-30 degrees Celsius.
Also read: What is lactic acid fermentation and how does it work?
The bacteria multiply
What also happens during this process is that when stored at a certain temperature, the cul-tured bacteria, in yoghurt or Nordic fermented products, begin to multiply.
When we develop and produce different fermented milk products in Arla, we take samples of the product at the end of the fermentation process . These samples are then carefully analysed to make sure that the right bacteria are present in the product and at the right levels.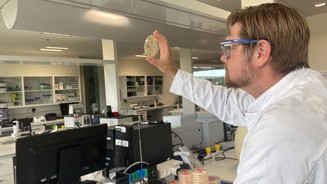 So you can rest assured that even if they are not visible to the human eye, the bacteria used in the yoghurt you eat for breakfast are carefully chosen to be the right ones.
This is what some of the cultures used for fermenting milk look like when transferred onto a lab plate: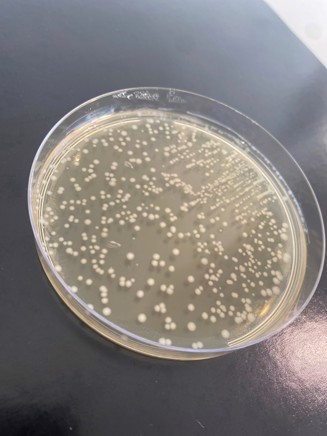 Also read: Is yoghurt healthy?