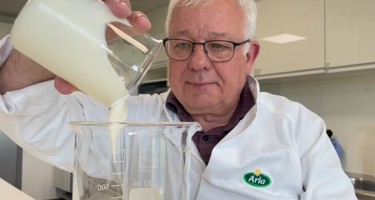 How does lactic acid fermentation work
Fermented foods are on everybody's lips these days. And not just literally. But despite what you might see or hear on social media – fermentation is not as new-school as it seems. Quite the opposite actually. Fermentation – and more specifically lactic acid fermentation – is one of the most old-school food preservation methods that exists.
Kimchi, sauerkraut, pickles, sourdough bread and yogurt are all fermented foods created using the method called lactic acid fermentation. In the old days it was for preservation purposes, today we mostly do it for the taste and texture.
So how does it work?
At Arla, we are not experts in producing sauerkraut – but as one of the largest dairy cooperatives in the world, we do know a thing or two about yogurts and fermented milk products.
Read on as Carsten Anker Hansen, dairy engineer at Arla Foods with 31 years of experience in developing fermented milk products, gives you an insight into the following:
What is fermentation?
What are lactic acid bacteria?
How does milk fermentation and lactic acid fermentation work?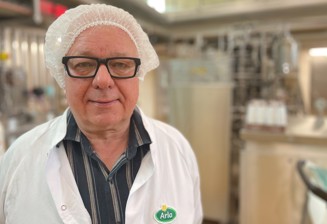 First things first, what is fermentation?
Simply put, fermentation is a process whereby microorganisms transform one thing into something else.
You can either ferment by adding a starter culture, for example for dairy products, or letting the foods do the work, for example for fruits and vegetables. For dairy, we use what is called lactic acid fermentation during which we add lactic acid bacteria as a starter culture to the milk.
In order to understand how this works, you need to know what lactic acid bacteria are and what they do.
What are lactic acid bacteria?
Lactic acid bacteria are a group of 'friendly' bacteria that are good at consuming the sugar in milk (lactose) and converting it into lactic acid and other components. Lactic acid bacteria change both the flavour and texture of the milk and thereby turn it into a completely different product.
In the video below, you can see the difference in texture of non-fermented milk and a fermented milk product.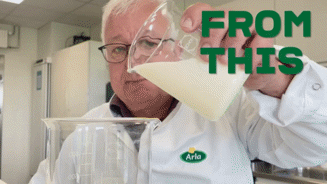 Read on to understand how the fermentation process works.
How does milk fermentation and lactic acid fermentation work?
All we need to produce yogurt and other fermented milk products is; milk, lactic acid bacteria, time and a certain temperature.
When we add lactic acid bacteria to ferment the milk, the bacteria begin to multiply. At the same time, the lactic acid produced causes the protein in the milk to bind together in a network that thickens the milk as well as creates various aroma elements.
Once the lactic acid bacteria is added to the milk, time and temperature will do the rest.
Depending on what type of lactic acid bacteria we use (yes, there is more than one type) and what type of product we want to make, the fermentation will happen between 20-42 degrees Celsius and between 4-18 hours.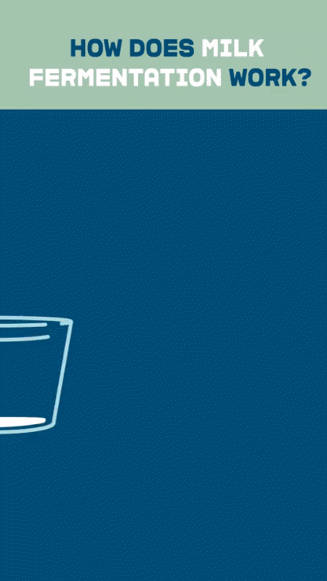 When the fermentation is complete, the milk will have turned into a much thicker product and the taste will be different, often it becomes stronger and more tart.
Some lactic acid bacteria can also produce CO2, which causes the mild tingling sensation you sometimes experience on your tongue when you eat certain fermented milk products.
When we ferment milk it also means that we are extending its shelf life. Most fermented milk products can last up to three to five weeks when stored at the correct cool temperature.
Also read: Is yogurt healthy?