Press release
Half-Year Results for 2023: Finding the Right Balance in a Downward Market
Read time:

5 min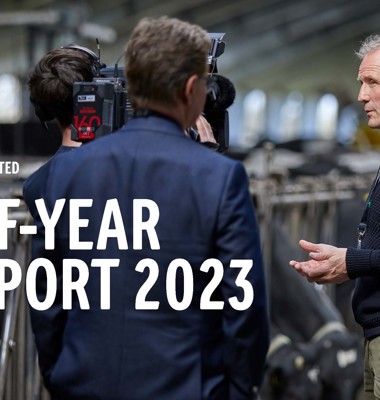 Half-Year Results for 2023: Finding the Right Balance in a Downward Market
Published:

29 August 2023

Contacts:
As expected, the first half of 2023 was dominated by continued inflationary pressure, declining dairy commodity prices, and a shift in consumer behaviors towards discount channels and private label products. This impacted Arla's performance in the first half of 2023, however, the cooperative was able to soften the negative impact of the market dynamics and deliver a performance price of 49.7 EUR-cent/kg milk, enabling a half-year supplementary payment to farmer owners of 1 EUR-cent/kg milk based on the half-year volumes as planned.
Arla group revenue was EUR 7,067 million for first half of 2023, a 10.7 per cent increase compared to EUR 6,382 million in the first half of 2022, primarily driven by earlier implemented price increases in Arla's retail and foodservice. Branded revenue grew by 6.9 per cent, driven by Lurpak with 7.2 per cent and the Arla brand with 3.6 per cent. Arla's average performance price, which measures the value created per kilogram of owner milk, remained on par with the first half of 2022 with a slight increase of 0.1 EUR-cent/kg to 49.7 EUR-cent/kg. However, compared to the performance price for the full year of 2022, the performance price in first half 2023 saw a decrease of 5.4 EUR-cent/kg.
MILK PRICE AFFECTED BY DECLINING COMMODITY PRICES
Driven by changes in commodity prices, Arla's milk price dropped from its all-time high, seeking a new balance in a market where milk production is going up and consumers are spending less. Arla's average pre-paid milk price increased to 48.2 EUR-cent/kg in the first half of 2023 compared to 46.6 EUR-cent/kg in the first half of 2022 and 52.0 EUR-cent/kg for the full 2022 year.
"As anticipated, the market conditions put our branded products under pressure. However, we managed to protect our relative market shares against our competitors, and I am pleased that we were able to secure group earnings, a competitive milk price and a half-year supplementary payment to our farmer owners of 1.0 EUR-cent/kg milk based on the half-year volumes as planned." says Arla Foods CEO, Peder Tuborgh.
In the first half of 2023, Arla achieved a net profit of EUR 103 million, or 1.5 per cent of revenue compared to 3.0 per cent in the same period last year.
BRAND PERFORMANCE IMPACTED BY NEGATIVE CONSUMER SENTIMENT
After years of extraordinarily high growth in branded volumes, growth rates were impacted by changing consumer patterns. Strategic branded volume growth landed at -6.0 per cent in the first half of 2023 (adjusted for the impact from our former Russian business, which was divested in the first half of 2022, our Strategic branded volume growth would have landed at -5.1 per cent). This was primarily driven by a drop in volumes in Europe of 5.7 per cent, and a 4.0 per cent decrease in International volumes.
"During the first half of 2023, we continued to see inflationary pressure resulting in consumers moving towards discount channels and private label products and putting a pressure on our branded products," says Arla CFO, Torben Dahl Nyholm."
In Europe, a few brands managed to maintain strong volume growth in an unpredictable market. Arla's strategic investments delivered strong volume growth, with the Starbucks™ business growing by 21.6 per cent and Arla®Protein by 51.6 per cent. In the International zone, both the Starbucks™ business and Puck® achieved a 3.3 per cent growth in branded volumes.
Taking the volatile market conditions into account, our foodservice business experienced volume growth of -1.8 per cent, compared to 19.0 per cent in the first half of 2022, where the surge in demand due to Covid-19 lockdown rebounds resulted in exceptionally high figures. Positive growth numbers are expected again in the second half of the year.
COMMERCIAL ZONES
Arla divides its business into 4 commercial segments:
In Arla's European business segment (including The United Kingdom), revenue increased by 15.4 per cent, to EUR 4,081 million compared to EUR 3,535 million in the same period last year, while branded volume driven revenue declined by 5.7 per cent following the general market trend of negative retail category growth across all European markets.
Arla's International business segment increased revenue by 3.6 per cent to EUR 1,243 million. Revenue was impacted positively by price increases executed during 2022, offset by an unfavorable development in main currencies of -3.7 per cent, as well as an underlying decline in branded volume driven revenue by 4.0 per cent due to lower demand (adjusted for the effect from divestment of our former Russian business).
Arla Foods Ingredients increased revenue by 10.8 per cent to EUR 513 million compared to EUR 463 million in the same period last year. The value-added whey protein product volumes grew by 5.2 per cent. The value-add share of 80.3 per cent fell from 81.8 per cent in the same period last year due to an increase in standard volumes.
Arla's Global Industry Sales business increased volumes significantly in the first half of 2023 driven by higher milk intake from our farmer owners and lower retail demand in European and International zones. Volumes increased by 33.1 per cent compared to the first half of 2022, with the highest increase in powder products. Compared to year-end 2022 volumes increased by 20.5 per cent.
SUSTAINABILITY INCENTIVE IN PLACE
In 2022, Arla introduced its new Sustainability Incentive model to reward and accelerate Arla farmer own-ers' implementation of climate and sustainability initiatives on farms. Throughout the first half of 2023, Arla farmers have familiarized themselves with the new science-based reward system. By June, 7,300 or 94 per cent of Arla's farmer owners had submitted their annual Climate Check data and uploaded almost 30,000 documents to register sustainability activities such as feeding optimisation, manure handling, energy opti-misation and renewable electricity.
"From 1st July 2023, the Incentive model will be an integral part of the monthly milk price payment, which will give farmers a clear and very tangible financial incentive to reduce their carbon footprint from month to month and from year to year," says Peder Tuborgh, Arla Foods CEO.
OUTLOOK 2023
While Arla expects inflation to soften, commodity markets continue to be marked by uncertainty in the coming half year.
"We anticipate that inflation and its influence on consumer patterns will continue to mark the remaining part of 2023, putting pressure on branded volumes in most markets. However, we expect an increase in the underlying category growth to contribute to branded growth slowly picking up again," says Peder Tuborgh, Arla Foods CEO.
Arla has lowered its full-year expectations for revenue to EUR 13.2-13.7 billion and expects to deliver a profit within the range of 2.8-3.0 per cent of revenue, narrowed from 2.8-3.2 per cent, making room for a supplementary payment in line with retainment policy.
Find the full report here: Half-year report 2023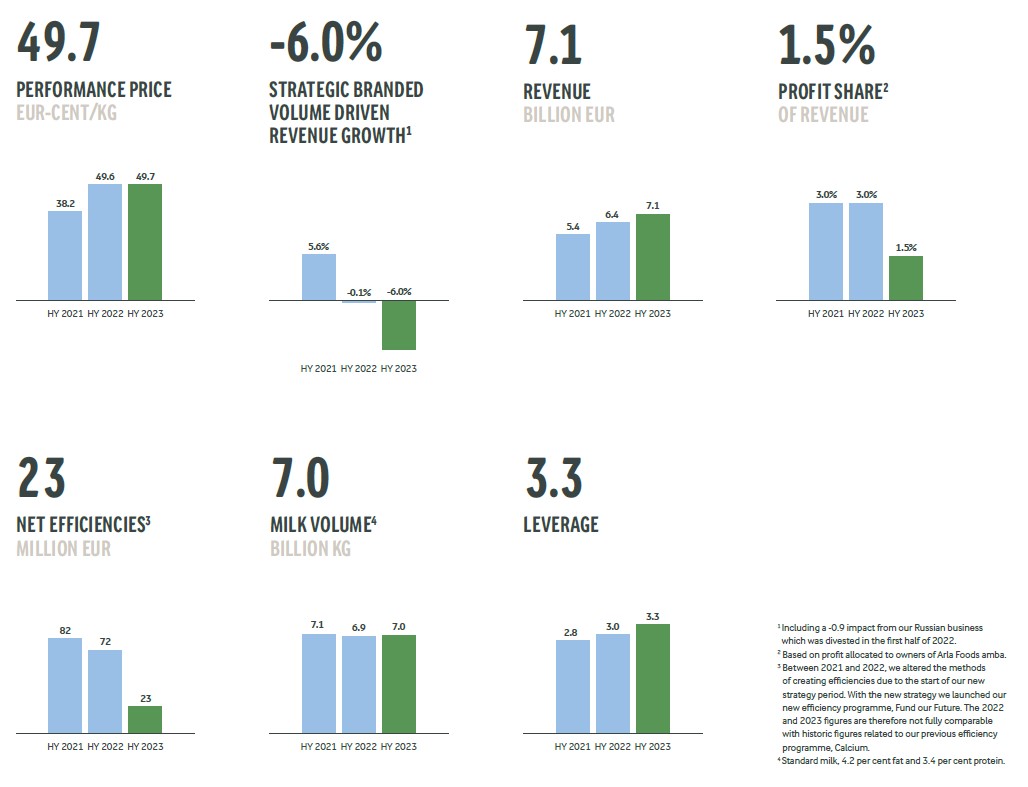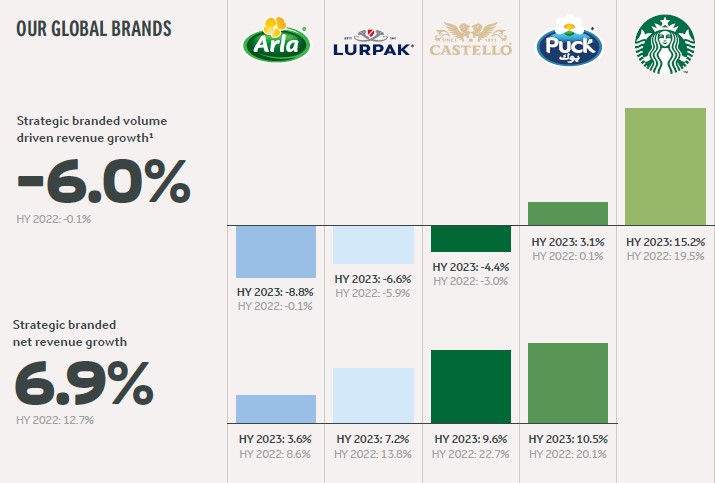 Arla Foods is an international dairy company owned by more than 8,400 farmers from Denmark, Sweden, the UK, Germany, Belgium, Luxembourg and the Netherlands. Arla Foods is one of the leading players in the international dairy arena with well-known brands like Arla®, Lurpak®, Puck® and Castello®. Arla Foods is focused on providing good dairy nourishment from sustainable farming and operations and is also the world's largest manufacturer of organic dairy products.
Press contact