Press release
Consumers continue to have big taste for Arla's trusted brands
Read time:

5 min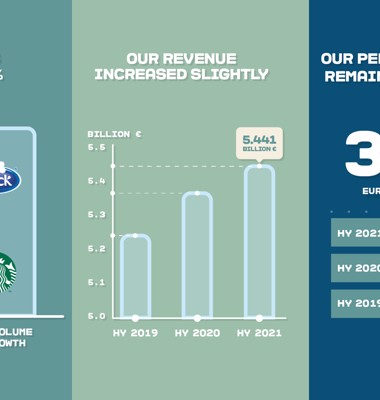 Consumers continue to have big taste for Arla's trusted brands
Published:

26 August 2021

Contacts:
During the first half of 2021, Arla continued to navigate the operational challenges presented by Covid-19. The global dairy cooperative delivered financial results and branded sales volumes at the top end of expectations driven by retail sales and paid out a competitive pre-paid milk price to farmer owners. However, the inflationary environment created by Covid-19 is expected to challenge the cooperative and its farmer owners with increasing production costs due to higher prices on fuel, energy, packaging and feed.
Total Arla Group revenue increased slightly by 1.2 percent to EUR 5.441 billion compared to 5.377 billion in the first half of 2020 driven mainly by continued high branded sales volume growth of 5.6 per cent across all dairy categories, particularly in the retail sector.
The cooperative's performance price – which measures the value Arla creates per kilogram of owner milk – was 38.6 EURcent compared to 37.0 EURcent first half of 2020.
Arla paid a competitive pre-paid milk price with increases over four consecutive months leading to a first half average of 36.0 EURcent/kg, which is 1.6 EURcent higher than the same time last year. However, many of Arla's farmer owners are challenged by increased production costs as global prices on fuel, energy and feed are going up. On average, feed prices have increased by 13% per cow in the first half of 2021.
"Global consumer demand for dairy has remained strong over the first half of 2021 as people continue to value the taste, nutritional quality and variety that dairy brings to their diets. Our strong positions across the retail sector and commitment to innovation, together with the resilience of our operations and farmer owners, has meant that we have delivered a solid result for first half of 2021 and delivered good returns to our owners through an improved milk price," said Arla Foods CEO, Peder Tuborgh.
Trusted brands remain among consumer favorites
High demand for dairy across all categories and a strong operational execution resulted in Arla's global brands delivering total sales volume growth of 5.6 per cent in the first half of 2021. The Arla® brand grew 6.9 per cent delivering revenue of EUR 1,626 million driven by sub-brands such as LactoFREE® and in the "fill 'n fuel" category.
Arla's stable of licensed brands also performed well, led by its ready drink Starbucks® portfolio which grew 43% in volume across Europe, the Middle East and Africa. Growth was seen in all markets but among others the UK and Denmark witnessed fast growth, driven in part by significant distribution gains in retail channels and the introduction of new products, such as Starbucks Triple Shot and Starbucks Chilled Classics Grande.
Arla's Food Service business saw a boost in sales in the Spring as the hospitality sector re-opened. Sales are not fully recovered due to prolonged global Covid-19 disruptions, but a re-balancing of demand between retail and the HORECA sector continues to play out.
Brand performance is being supported by the Company's digital strategy, which is focused primarily on building its e-commerce and in-house digital marketing capabilities and innovation in its production facilities. Arla's e-commerce business grew 33 per cent by revenue compared to the same period last year seeing one third of UK shoppers buying groceries at least once a week.
Commercial zones deliver positive results
Arla divides its business into 4 commercial segments:
Arla's European segment continued to deliver solid results with revenue of EUR 3,199 million compared to EUR 3,178 million in the same period last year with contributions from all markets. Branded volumes grew steadily by 2.5 per cent despite the small decline in Food Service in the first quarter of 2021.
Arla's international segment delivered branded growth of 12.2 per cent across all regions and main brands. Due to impacts of a declining US dollar and higher production and service costs, total revenue grew modestly by 1.3 per cent to EUR 1,037 million compared to EUR 1,024 million due. The negative impacts was however, to some degree offset by price increases.
Arla Foods Ingredients (AFI) a subsidiary owned 100% by Arla, continued to improve the quality of business and revenue grew to EUR 387 million compared to EUR 360 million the first half of 2020. In early June, AFI signed a contract with the Northern Ireland dairy company Dale Farm, to supply high quality whey and secure raw material to expand its value-add business.
Arla's Global Industry Sales continued to build on its good customer relationships. Due to the increased sales through Arla's retail channels, the overall share of milk solids fell from 23.6 per cent last year to 23.1 percent in 2021. Despite this, revenue increased slightly to EUR 818 million compared to EUR 815 million same time last year as a result of global market price increases.
"We continue to be in a strong financial position despite the prolonged uncertainty and global operational challenges from Covid-19. In the first half of 2021 we have continued to manage our business effectively across our commercial segments. However, the high inflationary pressure will be a challenge in the second half of the year," says Arla's CFO, Torben Dahl Nyholm.
Arla continues to raise the bar on sustainability
In the first half of 2021, the first results of Arla's Climate Checks – one of the world's largest datasets on dairy production – showed that Arla's farmer owners are among the most climate efficient in the world with an average climate impact of 1.15 kg/CO2e per kilo of raw milk. The comprehensive dataset also highlighted five main levers where dairy farmers can optimize their production for further reductions towards the science based 30% reduction in 2030 target and Arla's ambition to be carbon net zero in 2050.
Arla also took further sustainability action across its value chain, including renewable energy, recycled and recyclable packaging and in its financing. During the first six months of 2021, Arla has issued its first green bonds to help finance the green investments and its farmer owners are closing the loop and powering the cooperative with green electricity certificates.
Inflationary environment expected to put pressure on Calcium
Initiatives from Arla's transformation and cost savings programme Calcium delivered above expectations with savings before inflation of EUR 82 million, however, a significant increase in inflations resulted in a net savings impact of just EUR 29 million.
"Over the last 4 years, Calcium has successfully transformed the way we work, spend and invest in Arla and has been essential to deliver our competitive milk price. The programme will at a normalized inflation levels have exceeded our target of EUR 400 million in savings, but looking at full year, our efficiency pipeline will likely not fully compensate for the significant impacts from the expected inflationary pressure that continue in the second half of 2021," says CEO Peder Tuborgh.
Arla increases guidance for full year
Arla is adjusting its expectations for full year revenue for 2021 to the range of EUR 10.6 billion to EUR 11.0 billion, its branded sales volumes growth to 3-4 per cent. And the year-end leverage of no more than 2.8. Its net profit forecast is maintained at 2.8 to 3.2 per cent of revenue.
"The outlook remains volatile and whilst our recipe for managing Covid-19 has been successful, we must now manage the transition to the next normal just as well. We expect to see a re-balancing of demand between retail and Food Service which will bring our retail sales to a more familiar level and soften our branded growth and the broad inflationary environment will continue to challenge our company and farmer owners," says CEO Peder Tuborgh.
Read the full report here.
Arla Foods is an international dairy company owned by 9,400 farmers from Denmark, Sweden, the UK, Germany, Belgium, Luxembourg and the Netherlands. Arla Foods is one of the leading players in the international dairy arena with well-known brands like Arla®, Lurpak®, Puck® and Castello®. Arla Foods is focused on providing good dairy nourishment from sustainable farming and operations and is also the world's largest manufacturer of organic dairy products.
Press contact
Åse Andersson
Global Head of Media
Press contact for Arla Foods Group
aasan@arlafoods.com
+45 91 310 310
+45 89 38 10 00