Press release
Brands and transformation deliver strong 2019 results for Arla
Read time:

5 min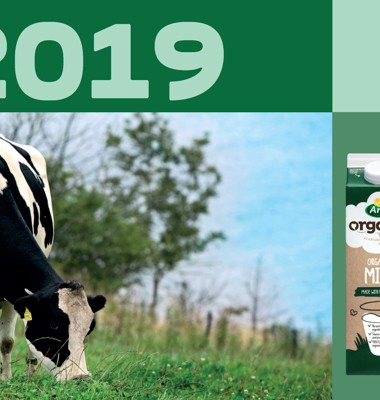 Brands and transformation deliver strong 2019 results for Arla
Published:

19 February 2020

Contacts:
In 2019 farmer-owned Arla Foods exceeded expectations for global branded sales whilst simultaneously transforming its business securing cost-savings at the top end of expectations through the Calcium programme. This enabled Arla to deliver a stable milk price to its farmers owners and a strong cash flow further strengthened the company's investment power in future growth.
Group revenue increased to EUR 10.5 billion (compared to EUR 10.4 billion in 2018 and EUR 10.3 billion in 2017) driven mainly by the global brand portfolio that achieved a year-on-year branded sales volume increase of 5.1 per cent.
Arla's performance price – which measures the value Arla creates per kilogram of owner milk – continued its upward trend during 2019 to 36.6 eurocent compared to 36.4 eurocent in 2018.
"Throughout 2019 we continued to build on the positive momentum that we have created in the business and Arla is a stronger company than we were a year ago. We have strengthened our competitiveness and beat our financial targets while continuing our transformation through Calcium," says Arla Foods CEO Peder Tuborgh.
Global brands continue to gain popularity with consumers Arla's branded sales volume grew 5.1 per cent in 2019, compared to 3.1 per cent in 2018, mainly driven by the Arla® brand. Global revenues of the Arla® brand grew to EUR 3,033 million compared to EUR 2,875 million in 2018, driven by a series of successful launches across its Lactofree and organic ranges, the introduction of new flexitarian options as well as the rapid growth of Skyr in core European markets.
Lurpak® performance underlined the resurgent popularity of butter both for cooking and everyday consumption. Innovations such as the Lurpak softest launch in the UK and the new butter box packaging for block butter, with sales of over 100,000 tonnes. Lurpak® revenue increased to EUR 588 million, compared to EUR 561 million last year.
Puck®, the company's leading brand in the Middle East and North Africa (MENA) grew revenue to EUR 363 million, compared to EUR 352 million last year, driven by the processed and cream cheese business.
Castello® specialty cheese revenue stayed constant at EUR 179 million, despite a challenging and competitive environment across Europe and selected international markets.
Milk based beverage brands increased revenue by EUR 20 million to EUR 207 million, mainly driven by Starbucks™, which is sold in Europe, Middle East and Africa.
"Arla's global brands continue to be at the heart of our business and in 2019 we have clearly strengthened consumer trust in our brands. We delivered a range of popular dairy products that capitalized on increasing consumer demand for healthy and sustainable food choices, which helped us exceed our expectations for branded growth in 2019," says CFO of Arla Foods, Natalie Knight.
Commercial segments deliver on Good Growth 2020 Strategy To build on its position as a leading global dairy business, Arla focuses its activities on four commercial segments.
Arla's Europe segment represents just over 60 per cent of the business, core brands delivered a 2.9 per cent branded volume growth, compared to 2.5 per cent in 2018 with growth across all markets. Especially in the UK that delivered 8,8 per cent branded volume growth. However, the overall revenue in the Europe segment decreased by EUR 154 million to EUR 6,353 million, largely as a result of stepping out of unprofitable private label contracts and exchange rates.
Arla's International segment represents 17 per cent of the business. International delivered overall double-digit branded volume revenue growth of 10.3 per cent with growth across all regions except North America. Revenue increased EUR 226 million, to EUR 1,802 million, which is the highest increase in the past 3 years. On top of this, the acquisition of the state-of-the art production facility in Bahrain from Mondeléz International and the long term Kraft® brand license for their cheese business in MENA enables Arla to step change its production capability in the region to enable future growth ambitions.
Arla Foods Ingredients (AFI) a 100% owned subsidiary of Arla Foods, increased revenue by EUR 58 million to EUR 710 million, driven by higher sales of value-added products within the pediatric, health & performance and food segments, as well as higher prices and the full-year effect from the acquisition of the remaining 50 per cent share of Arla Foods Ingredients S.A. Argentina in 2018.
Trading, which is business to business commodity sales decreased revenue by EUR 28 million to EUR 1,662 million compared to EUR 1690 million last year, mainly due to lower volumes and negative currency effects.
Calcium continues to transform the business and delivers above expectations Arla's transformation and efficiencies programme Calcium again delivered above expectations, with savings of EUR 110 million exceeding the high-end 2019 target of EUR 75-100 million. As a result, the accumulated savings of EUR 224 million since the launch in 2018, means that Arla is more than halfway towards the 2021 end goal of EUR +400 million in sustainable savings.
CEO of Arla Foods Peder Tuborgh says about the transformation:
"In 2019 we were able to grow and improve our quality of business while continuing to deliver efficiencies beyond our initial expectations. This clearly shows that our employees are transforming the way they work, spend and invest in our business. The changes becoming more and more embedded in our ways of working and I am very proud of our people and our results so far."
Final year of Good Growth 2020 strategy and investments in sustainable growth 2020 is expected to be another big investment year. Arla plans to invest a record EUR 619 million in major projects to expand capacity in growth sectors such as milk powder for the international markets by continuing the completion of a powder tower in Pronsfeld, Germany, expansion of mozzarella capacity in Branderup, Denmark, and upgrades to the newly acquired Bahrain production site, as well as significant investments into capacity increases for AFI.
In 2020 Arla will build on the momentum created in 2019 and further strengthen the cooperative's competitiveness with focus on branded growth, the transformation and efficiencies programme, Calcium and increase its focus on taking action on the sustainability agenda across the whole value chain.
Brexit continues to be a risk, with the negotiations on the future UK/EU trading relationship taking place in 2020. There is the potential for tariffs and non-tariff barriers to be imposed which would add friction and cost to UK and EU trade. Arla is advocating for as close a trading relationship as possible to minimise these risks.
The end of 2020 also marks the completion of the Good Growth 2020 strategic period, and Arla expects to reach all its long-term financial targets.
"As we come into the home stretch of our Good Growth 2020 strategy, it's clear that it has been a very successful guide for us to grow our global and branded positions. Looking forward, we will continue to capitalize on these strengths, increase our innovation capabilities and most importantly, strengthen our commitment to sustainability to secure even more value for our farmer owners going forward," says CEO Peder Tuborgh.
Group revenue outlook for 2020 is expected to be EUR 10.4-10.8 billion, net profit share will be in the range of 2.8 to 3.2 per cent, and leverage is expected to be within target range of 2.8-3.4. Arla will publish its annual report and CSR report on February 27th.
Arla Foods is an international dairy company owned by more than 8,900 farmers from Denmark, Sweden, the UK, Germany, Belgium, Luxembourg and the Netherlands. Arla Foods is one of the leading players in the international dairy arena with well-known brands like Arla®, Lurpak®, Puck® and Castello®. Arla Foods is focused on providing good dairy nourishment from sustainable farming and operations and is also the world's largest manufacturer of organic dairy products.
Press contact