News
Black is the new green
Read time:

1 min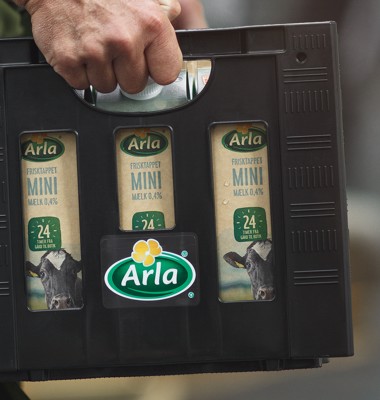 Black is the new green
Published:

24 September 2019
Arla's milk crates in Denmark are turning black, while the footprint they leave behind becomes greener.
Arla is taking another step towards its ambitious climate goal to become completely carbon neutral by 2050. In Denmark, the milk crates that transport millions of litres of fresh milk to the Danish consumers are now being made from 100 per cent recycled plastic.
300,000 of the new milk crates will hit the streets in the coming year, but they will look a bit different as the transition not only makes the crates greener, their colour is changing to black.This is because the plastic used for the crates is recycled from the car industry, which cannot be produced in the former iconic green colour.
The drastic makeover of the milk crates means that CO2 emissions are being reduced by at least 30 per cent. In the first year alone, 250,000 kilos of CO2 will be saved.
"We're very devoted to making our dairy products more sustainable, and climate friendly packaging is a central part of the solution. We're of course aiming to produce as few new milk crates as possible, but when new ones are needed, it's important for us to make the greenest choice even though it means we have to go with a darker look," says Jakob B. Knudsen, head of Arla Denmark.
Currently there are about 2-3 million of Arla's milk crates in use in Denmark. And for years, several initiatives have been put in place to make the milk crates more sustainable. Broken crates are collected and reused and every year, a national event is organised to collect milk crates that have gone astray. Last year 100,000 milk crates were found and returned safely.