Press release
​Arla bouncing back from tough first quarter
Read time:

6 min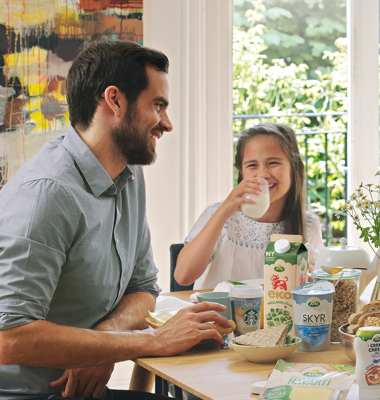 ​Arla bouncing back from tough first quarter
Published:

30 August 2018

Contacts:
Arla Foods improved its profitability and delivered revenue growth of 2.2 per cent to EUR 5.1 billion, driven in part by the company's strategic brands in the first half of 2018 and rebounding milk prices after a weak first quarter. With a stable outlook for the rest of 2018, Arla expects to reach its full-year targets for net profits, branded growth and to exceed its expectations for cost reduction through its transformation programme Calcium.
The first half of 2018 was characterized by challenging market conditions with a continued weak GBP and unfavorable development in both fat and protein prices. However, price levels began to improve in the second quarter of 2018, and despite higher retail prices consumers remained attracted to Arla's strategic brands across categories.
Total Arla Group revenue grew by 2.2 per cent to EUR 5.1 billion, supported by higher strategic branded sales volumes, which were up 3.0 per cent due to strong performance by the Arla® brand, Lurpak®, Puck® and Castello®.
Arla delivered a performance price of 34.7 EUR-cent per kilogram of milk compared to 35.8 EUR-cent in the first half of 2017, as a result of lower commodity prices at the start of 2018.
Each year, Arla targets an annual net profit share in the range of 2.8 to 3.2 per cent of revenue. This allows the company to balance its retained capital for future investments and provide a supplementary payment to farmer owners, while continuing to pay out the highest possible share of our ongoing profit to our farmer owners via the prepaid milk price throughout the year.
In the first half year of 2018, Arla delivered a net profit share of 2.2 per cent, up from last half year's profit share of 2.1 per cent. The company expects to reach its full year net profit share to be within the 2.8 to 3.2 per cent target range.
Operational costs increased in the first half year as a result of inventory revaluation from changes in milk price, higher sales volumes, as well as increased inflation-driven costs for energy and transportation.
"It was a tough start to 2018 as we took urgent action to repair our bottom line, which was impacted by the double-whammy of a weak British pound and unfavorable prices. This urgency delivered a positive result as we were able to improve our profitability and the performance of our milk price over the period. However, there is more work to be done as we continue to relentlessly execute our transformation programme, Calcium, which will further improve our performance," says CEO of Arla Foods, PederTuborgh.
CALCIUM BEGINS TO DELIVER
Early in 2018, the three year transformation and efficiency programme Calcium was announced by Arla's management to reduce cost by EUR 400+ million. In the first half of 2018 Calcium was already able to deliver first positive contributions of EUR 9.5 million. For the full-year of 2018, Arla expects Calcium to deliver a positive contribution of at least EUR 50 million, up from the initially forecasted EUR 30 million.
"I'm pleased to say that Calcium is starting to deliver – every week we see steady progress across the programme. Our top management, leaders and employees are working adamantly on each initiative that will enable us to pay a more competitive milk price to our farmers, compete more effectively in the markets and categories we operate in worldwide, and boost the strategic investments that will sustain our long term profitable growth," says CFO in Arla Foods, Natalie Knight.
Of the EUR 400 million Calcium is expected to deliver by 2021, Arla aims to direct EUR 300 million to its farmer owners via the prepaid milk price while reinvesting EUR 100 million into areas that fuel growth.
QUALITY OF BUSINESS IMPROVES
The Arla® brand is a key driver of the company's growth, with sales growing 5.0 per cent to EUR 1.487 million in the first half-year, adjusted for exchange rates. It was largely driven by price increases and increasing sales volumes within the organic milk, milk based beverages and mozzarella cheese categories.
Puck® is the leading brand for Arla Foods' business in the Middle East and North Africa and continued its strong performance across categories. Overall Puck® revenue grew 9.1 per cent to EUR 185 million, adjusted for exchange rates, mainly driven by higher volumes in its core cream and processed cheese category.
Lurpak® saw an 11.3 per cent growth in revenue in the first half-year, adjusted for exchange rates to EUR 270 million, driven by substantial price increases in the butter and spreads category worldwide as well as continued volume gains.
Sales of Arla'sspeciality cheese brand Castello® grew 5.6 per cent to EUR 83 million, adjusted for exchange rates. Volumes increased by 4.7 per cent primarily in North America, and contributed most of the revenue growth.
"Our brands are at the heart of our business and drive the majority of Arla's profitability. With our brands and product portfolio, we have succeeded in meeting the growing demand for healthy, natural and safe food products. And we will continue to provide dairy products in new, innovative formats that suit the changing lifestyles across the world," says Natalie Knight.
COMMERCIAL SEGMENTS AFFECTED BY FOREIGN EXCHANGE RATES
Sales to European retail and foodservice grew 0.6 per cent to EUR 3.197 million compared to EUR 3.177 million in the first half of last year, driven mainly by higher sales prices and an improved product mix.
International sales declined by 5.3 per cent to EUR 750 million, compared to EUR 792 in the first half of last year. This development was strictly a result of weaker USD and USD-related currencies impacting the translation of international revenue into our financial results. Adjusted for currency impact, revenue from Arla's international business increased by 1.7 per cent driven by increased branded growth. Arla Foods Ingredients (AFI) continues to be Arla's most profitable segment. In the first half of 2018, AFI delivered 6.1 per cent of Arla's sales. AFI's sales declined by 0.6 per cent to EUR 311 million versus EUR 313 million last half-year due to exchange rate impacts. Adjusted for exchange rates, revenue was stable and the quality of sales improved due to a continued focus on profitable categories contributing to a higher value-added share.
Trading, which is business-to-business commodities sales, increased 18.4 per cent to EUR 869 million, driven by a higher owner milk intake and higher volumes and prices. Arla's strategic decision to increase trading activities in high margin commodities, such as mozzarella and milk powder is a strength to the business and allows Arla to disengage with low-margin private label contracts.
FULL YEAR EXPECTATIONS
For the full year, Arla will remain focused on balancing branded growth in a higher retail price environment. Continued execution of the transformation programme Calcium will be the company's other key priority. Arla's revenue outlook for the full year 2018 is expected to be EUR 10.0-10.5 billion and Arla's branded growth is expected to be at the high-end of the previously communicated target range of 1.0-3.5 per cent.
Net profit share for 2018 is expected in the targeted 2.8-3.2 range.
"Unpredictable weather conditions and market volatility have unfortunately become constant companions to the dairy industry and the current situation signal caution for the coming months. However, we have taken urgent action to secure that Arla remains a strong and competitive cooperative for our farmer owners, as we continue to provide high-quality, safe and sustainable food to the world's growing population," says PederTuborgh.
Arla Foods is an international dairy company owned by 9,700 farmers from Denmark, Sweden, the UK, Germany, Belgium, Luxembourg and the Netherlands. Arla Foods is one of the leading players in the international dairy arena with well-known brands like Arla®, Lurpak®, Puck® and Castello®. Arla Foods is focused on providing good dairy nourishment from sustainable farming and operations and is also the world's largest manufacturer of organic dairy products.
Press contact
Åse Andersson
Head of Media
Press contact for Arla Foods in Denmark
aasan@arlafoods.com
+45 91 310 310
+45 89 38 10 00
Carina Østergaard
Corporate Communication Manager
Press contact for Arla Foods International
caoes@arlafoods.com
+45 91 31 16 01
+45 89 38 10 00