Press release
Breaking ground for new Arla Foods Ingredients Innovation Centre
Read time:

2 min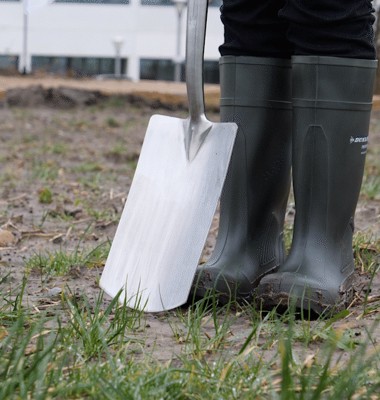 The new AFI Innovation centre is expected to open in summer 2021.
Published:

24 January 2020

Contacts:
Today farmer-owned Arla Foods is breaking ground on its new modern innovation centre for the ingredients business in Nr. Vium, Denmark. Global demand for highly specialized products and ingredients is increasing and with the new innovation centre, Arla Foods Ingredients will further intensify its innovation efforts and take dairy and whey ingredients to the next level to meet the need for nutritious and sustainable food. The new innovation centre will be home to leading international scientists and innovators.
Over the coming years, Arla Foods Ingredients´(AFI) segments are expected to continue to grow at a high rate. Therefore, Arla Foods has invested more than EUR 40 million in the new innovation centre which will be located in Nr. Vium, Denmark in close proximity to the key production site in Arla Foods Ingredients, Danmark Protein.
It will be a 9,000 square metre state-of-the-art facility with open office spaces, labs and a pilot plant, and the close interaction between the new AFI Innovation Centre and Danmark Protein will create a unique environment for process development and pilot production to unleash all the wonders of whey.
Arla Foods Ingredients (AFI) is an Arla Foods subsidiary that has transformed whey from what was once considered a waste product to premium, high quality ingredients used for infant nutrition, clinical nutrition, sports nutrition, health foods and other foods and beverage products.
Henrik Andersen, Group Vice President in Arla Foods Ingredients, says:
"I am very happy to announce that we are now breaking ground on our new game changing innovation centre. We are always looking for new and innovative solutions for our customers to help them develop new products that meet specific nutritional needs of children, athletes, patients and consumers. With the new centre we can use cutting edge research and technology to explore milk and whey to their full potential as ingredients for a wide range of nutrition."
At the centre, up to 90 scientists, technicians and innovators will cover all aspects of research and development within whey and milk – from advanced separation technologies to isolate specific components of the whey or milk, to heat treatment and pasteurization technology to improve functionality and shelf-life.
"It is our clear ambition to continue to attract the very best colleagues who share our mission of discovering and delivering all the wonders whey can bring to people's lives. The colleagues working with innovation in AFI are already among the most talented in the world and we look forward to welcoming more employees to this new and exciting workplace with some of the most challenging development projects in the dairy industry," says Vice President of Research & Development Niels Østergaard.
Arla's belief in innovation being the key to unlocking the future of dairy was demonstrated when it opened Arla Innovation Centre (AIC) in Skejby, Denmark in 2017. This innovation centre now employs 130 people.
The new AFI Innovation centre is expected to open in summer 2021.
Want a sneak peek of Arla Foods Ingredients' new innovation centre? Get a virtual reality tour here:
Arla Foods is an international dairy company owned by more than 8,900 farmers from Denmark, Sweden, the UK, Germany, Belgium, Luxembourg and the Netherlands. Arla Foods is one of the leading players in the international dairy arena with well-known brands like Arla®, Lurpak®, Puck® and Castello®. Arla Foods is focused on providing good dairy nourishment from sustainable farming and operations and is also the world's largest manufacturer of organic dairy products.
Press contact