Press release
Lillebælt Dairy to close in 2019
Read time:

1 min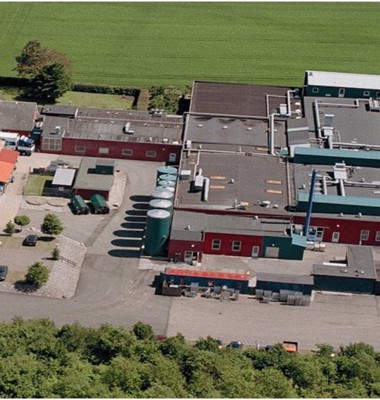 Arial view of Lillebælt Dairy
Published:

30 June 2017

Contacts:
After thorough analysis, Arla has decided to move production of white mould cheese to Troldhede Dairy in Denmark to increase efficiencies and to make the site more environmentally sustainable. This means that Lillebælt Dairy, also in Denmark, will close – though not before the beginning of 2019.
The board of Arla Foods has taken the decision to close Lillebælt Dairy, which produces white mould cheese under the Castello® trademark. In the future these cheeses will be produced at Troldhede Dairy, where there are better opportunities to make long-term investments in quality and efficiency.
"Having conducted a thorough analysis of Lillebælt Dairy, this has shown that it is no longer profitable to continue production. It will require substantial investment to secure long term production at this site. Similarly, by combining the production of white mould cheese at Troldhede Dairy, our costs will be lowered, which will benefit our farmer owners," says Group Vice President at Arla, Lars Dalsgaard, who has global responsibility for Arla's cheese production.
Help for colleagues
The closure of the dairy is expected to be completed in the beginning of 2019, however, Arla has chosen to inform the 66 colleagues who are affected today, so it has more opportunities to help them into new jobs. The colleagues were informed of the decision earlier today.
Together with the worker's counsel and the dairy's committee, a plan has been put together to secure the best possible conditions for the colleagues at Lillebælt Dairy to secure future job opportunities.
"We have a lot of very good experience in finding new jobs for colleagues affected by such announcements and we will, of course, do all that we can to help the colleagues at Lillebælt Dairy into new employment, either within Arla or externally," says Lars Dalsgaard.
Arla Foods will offer the affected colleagues jobs at its nearby dairies such as Korsvej and Taulov, which have benefitted from investment of more than 157 million kroner in expansions and production developments in recent years.
Arla Foods is an international dairy company owned by 9,700 farmers from Denmark, Sweden, the UK, Germany, Belgium, Luxembourg and the Netherlands. Arla Foods is one of the leading players in the international dairy arena with well-known brands like Arla®, Lurpak®, Puck® and Castello®. Arla Foods is focused on providing good dairy nourishment from sustainable farming and operations and is also the world's largest manufacturer of organic dairy products.
Press contact
Åse Andersson
Global Head of Media
Press contact for Arla Foods Group
aasan@arlafoods.com
+45 91 310 310
+45 89 38 10 00
Pernille Bonne Nejsig
Press and Communication specialist
Press contact for Arla Foods Group
perne@arlafoods.com
+45 91311232
+45 89 38 10 00