Press release
Arla Foods launches branded organic milk in the Middle East
Read time:

2 min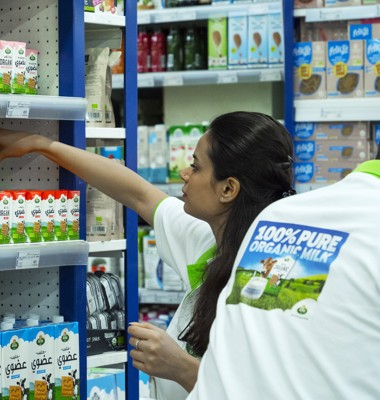 Arla Foods launches branded organic milk in the Middle East
Published:

26 September 2017

Contacts:
Arla Organic Milk is now available in leading retailers across the United Arab Emirates (UAE).
Arla Foods, the world's largest producer of organic dairy products, has launched its first branded organic milk in the Middle East, the company's biggest strategic growth market outside Europe, marking a significant milestone in its growth agenda.
The launch of Arla Organic Milk in the UAE forms part of the farmer-owned company's ambitious business strategy, which is to become the number one organic dairy brand in the Middle East and North Africa by 2020. Arla also has plans to expand into Saudi Arabia and Kuwait in 2018.
"We see a growing appetite for organic products in the Middle East, and we are responding to this consumer demand with the first of many organic product launches in the region. As the world's leading producer of organic dairy products, we look forward to introducing more Middle Eastern consumers to our organic range by adding Arla Organic to our existing portfolio in the region," says Rasmus Malmbak Kjeldsen, senior vice president of Arla's operations in the Middle East and North Africa.
Phased regional launch
Being both international and multi-cultural, UAE is typically a first-mover country in the region when it comes to consumer trends and it is where Arla first spotted the organic trend in the region.
"We have noted a general trend towards organic especially in the fruit and vegetables category. Now we are seeing this unfold into dedicated organic shops, cafés and restaurants. By launching Arla Organic milk in UAE first, we look to tap into this growing trend and gather crucial information about organic consumers, which we can utilise as we enter neighbouring markets," says Rasmus Malmbak Kjeldsen.
Presently Arla is best known in the Middle East for non-organic dairy products under global brands such as Lurpak®, Castello® and particularly Puck®, which has become a household staple. Fronting the Arla® brand on products like organic milk and Arla® Protein milk drink will build the dairy company's presence even further.
To celebrate the launch of Arla Organic Milk in UAE and to coincide with World School Milk Day, Arla is hosting an interactive pop-up farm event in Dubai on September 24th to 27th, offering primary school children, government officials and the media a unique opportunity to learn more about organic farming. Two organic Arla farmer owners from Europe will be present for the launch in Dubai to share their experience and dedication directly with consumers.
Arla Organic Milk is now available across all key retailers in the UAE, including Union Coop, Choithrams, Spinneys, Carrefour, Geant and Lulu Hypermarket.
Arla Foods is an international dairy company owned by more than 8,900 farmers from Denmark, Sweden, the UK, Germany, Belgium, Luxembourg and the Netherlands. Arla Foods is one of the leading players in the international dairy arena with well-known brands like Arla®, Lurpak®, Puck® and Castello®. Arla Foods is focused on providing good dairy nourishment from sustainable farming and operations and is also the world's largest manufacturer of organic dairy products.
Press contact