Press release
Nordic teenagers rarely look to official guidelines for dietary guidance
Read time:

2 min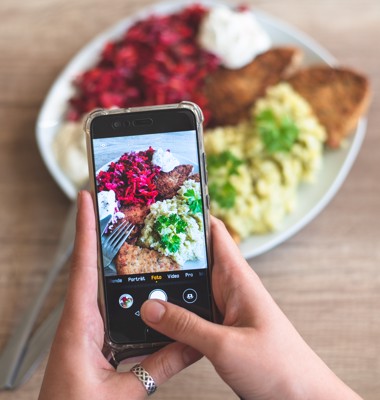 Nordic teenagers rarely look to official guidelines for dietary guidance
Published:

14 January 2021

Contacts:
A new survey shows that health is top-of mind for teenagers in Sweden, Denmark and Finland when eating or buying food. However, only half of them know of the official dietary guidelines. Parents, friends and social media are much more used when seeking advice on how to live healthy and sustainably.
The survey shows that no more than 10 per cent of the Nordic teenagers perceive nutritional experts, school teachers or official guidelines as highly influential on their food habits. And even though the official dietary guidelines are characterised as trustworthy, they rarely catch the teenagers attention.
More than half of the teenagers have actively searched for food inspiration during the past six months. 27 per cent have searched for guidance on how to eat more healthy and 13 per cent on how to eat more sustainably.
Actively seeking information on food is most prevalent among older teenagers between the age of 17 and 19. Unsurprisingly, teenagers in this age group mention social media as the most influencing source of information, while friends and parents are second and third.
Arla has initiated the study, which is conducted by Ipsos, to get a better understanding of teenagers' views on the official dietary guidelines and how they define a healthy and sustainable diet - a topic that is increasingly debated online.
"Seeking information about diet and health is positive as long as the information provided is true and not misleading, and we in the food industry as well as individual food influencers have a great responsibility to follow recommendations from professional nutritional experts. When you are in your late teens or a young adult you are laying the foundation for your future food habits. You should be critical towards the sources of information that you use and which products you choose to exclude. You need to be mindful that you still consume all the nutrients you need, otherwise there is a risk that your diet will be one-sided," says Lea Brader, PhD and nutrition scientist at Arla.
Nutritional experts recommend that a healthy and balanced diet includes lots of vegetables, fruit and legumes, nuts, seeds, dairy, egg, fish, lean meat and poultry.
Every third Nordic teenager claims to be on a 'free-from' diet
Flexitarian, lactose-free, vegetarian, vegan and gluten-free are among the different types of special diets that 31 per cent of the Nordic teenagers say best describe how they eat.
However, the survey also shows that some teenagers have not necessarily fully committed to or are fully able to follow their choice of diet.
For example, 36 per cent of those who describe themselves as vegetarians stated that they had eaten chicken in the past week, while 23 per cent had eaten beef and 16 per cent pork. The same tendency is seen for the teenagers claiming to be vegan. A third of these also had some type of dairy product (cheese, skyr or yogurt) in the past seven days.
"This insight is very interesting, because it indicates that it can be difficult for teenagers to follow a certain diet and for some Nordic teenagers, choosing a free-from diet is perhaps more part of a certain lifestyle that they identify with, rather than a strict guideline for what to eat," says Lea Brader.
What is lactose free milk and how does it work? Click and read more
The study can be accessed here: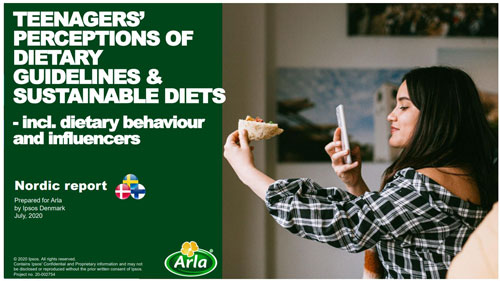 About the survey
The survey was conducted by Ipsos. The data collection took place between 19th June and 10th July 2020. 1,500 teenagers in a nationally representative sample in Sweden, Denmark and Finland answered questions via an online survey.
Arla Foods is an international dairy company owned by more than 8,900 farmers from Denmark, Sweden, the UK, Germany, Belgium, Luxembourg and the Netherlands. Arla Foods is one of the leading players in the international dairy arena with well-known brands like Arla®, Lurpak®, Puck® and Castello®. Arla Foods is focused on providing good dairy nourishment from sustainable farming and operations and is also the world's largest manufacturer of organic dairy products.
Press contact
Åse Andersson
Global Head of Media
Press contact for Arla Foods Group
aasan@arlafoods.com
+45 91 310 310
+45 89 38 10 00