Press release
CSR report: Arla accelerates sustainability actions
Read time:

3 min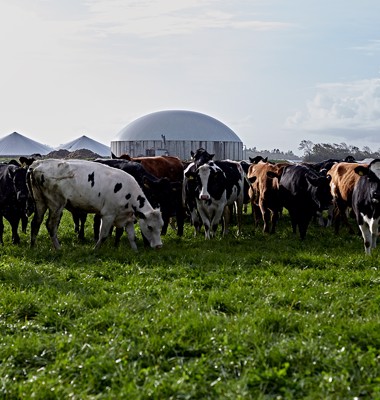 CSR report: Arla accelerates sustainability actions
Published:

26 February 2021

Contacts:
With a broader pipeline of initiatives than ever, climate actions remain a strong priority for Arla, and the dairy cooperative continues to invest in sustainable solutions across its value chain. 
Today, Arla has published its 2020 Corporate Responsibility Report documenting how the cooperative has progressed its responsible business practices over the past year.    
"As one of the world's largest dairy cooperatives we have a global responsibility to not just change our own carbon footprint, but to also lead the way, inspire and share our knowledge, experience and data. Through our CSR report we are able to highlight and document how we are improving and participating in finding solutions both on farm and across our business," says Chief Marketing Officer and Head of Corporate Social Responsibility at Arla, Hanne Søndergaard.  
Stronger planet
Arla has previously announced an ambitious science-based climate target of 30% reduction in CO2e emissions by 2030 and a carbon net zero cooperative in 2050 throughout its value chain – from cow to consumer. 
In 2020, Arla progressed towards its ambitions for both packaging materials, operations and farming (scope 1,2 and 3) with bold and innovative solutions.
For farming, Arla has reduced its CO2 footprint with 7% since 2015 and in 2020 and rolled out climate checks to all farmer owners across 7 European countries. This creates one of the world's biggest externally verified data sets on dairy farming to help farmer owners' accelerate the transition to reduce emissions even further.  
For operations, Arla has reduced its CO2 footprint with 24% (market-based accounting) since 2015 taking into effect the establishment of carbon net zero fresh milk sites in Denmark. This initiative supported the launch of Arla® ØKO climate neutral organic product range in DK, compensated with carbon credits for the emissions not yet eliminated.
For packaging, Arla took further steps by removing the plastic lid on the recyclable cartons for organic milk in Denmark, reduced plastic content of the Arla® Skyr bucket with 40% and changed the plastic from PS to PP material, which is better for recycling.
For transport, Arla put more biogas fueled trucks on the road in UK and Sweden and in Denmark, Arla introduced the first electric truck running 100 per cent on renewable electricity from Danish windmills.
Arla's overall CO2 emissions increased slightly in 2020 compared to 2019 due to increased consumer demand created by the COVID-19 situation which resulted in higher production across the business, increased use of product packaging as well as increased purchase of whey.
"Smaller fluctuations in our CO2 emission levels are expected year on year, and 2020 has been a year like no other defined by the global pandemic and rapid changes in consumer behavior. It is important to underline that our overall emissions in 2020 are lower than they were 5 years ago and we are confident in our robust plans to ensure we reach our target for 30% reduction in 2030 and net neutral in 2050 driven by the fact that Arla's farmer owners are among the most climate efficient in the world," says Hanne Søndergaard.  
 Stronger people
The CSR report also provides insights into Arla's Stronger People pledge focusing on health, inspiration, and international dairy development. The report highlights two partnerships for sustainable development; the Milky Way Partnership in Nigeria and The Pushti Ambassador Partnership in Bangladesh that focus on sustainable dairy production, food safety and quality.  
 "I am particularly proud of our partnerships in West Africa and Bangladesh. Through them, we have been able to ensure affordable dairy products to 75 million low-income consumers thus ensuring access to vital nutrition while supporting the development of local dairy production and livelihoods," says Hanne Søndergaard.  
Responsible sourcing
Arla's supply chain is another important lever in the cooperative's pursuit to take responsibility and create a positive impact in the world. All suppliers must sign and follow Arla's code of conduct which governs not just environmental, social, and human rights aspects, but also support a more sustainable production of raw material such as soy, palm oil and cocoa. In 2020 the cooperative also joined the initiative One Planet Business for Biodiversity.  
Consolidated environmental, social and governance data 
To signify its commitment to the sustainability agenda and to increase accountability towards its goals, in 2020 Arla improved its quality and strengthened the external reporting process of the environmental, social and governance performance (ESG) and thus received reasonable assurance on most of its ESG figures.
"There is a growing demand for transparency from our customers, consumers and financial institutions, and the CSR report and the figures in it is key in building and maintaining trust in our business and farmer owners. I am very pleased with both our results and our way of reporting in our CSR report in 2020," says Hanne Søndergaard. 
Arla's CSR-report 2020 contains many more facts on the cooperative's corporate social responsibility actions; please find the full CSR report 2020 as well as Arla's annual report 2020 on the cooperative's website
Arla Foods is an international dairy company owned by more than 8,900 farmers from Denmark, Sweden, the UK, Germany, Belgium, Luxembourg and the Netherlands. Arla Foods is one of the leading players in the international dairy arena with well-known brands like Arla®, Lurpak®, Puck® and Castello®. Arla Foods is focused on providing good dairy nourishment from sustainable farming and operations and is also the world's largest manufacturer of organic dairy products.
Press contact
Åse Andersson
Global Head of Media
Press contact for Arla Foods Group
aasan@arlafoods.com
+45 91 310 310
+45 89 38 10 00