Press release
Arla signs new 400 mEUR revolving credit facility linked to sustainability actions
Read time:

1 min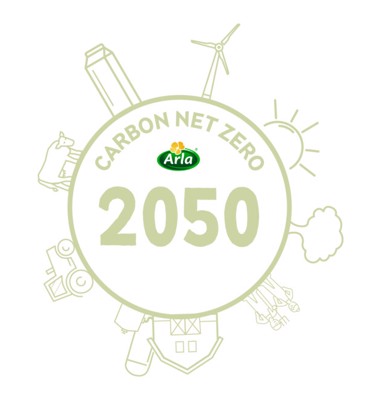 Arla signs new 400 mEUR revolving credit facility linked to sustainability actions
Published:

20 December 2021

Contacts:
Arla has signed a new 5-year sustainability-linked revolving credit facility. Arla expects to use the facility for corporate purposes supporting the Company's new, ambitious 5-year FUTURE26 strategy .
The new facility is well aligned with Arla's sustainability agenda, where the company has set ambitious environmental, social and governance (ESG) targets across its value chain from cow to consumer. Three main KPI's have been identified in the facility where the margin rate will be adjusted based on results delivered by Arla.
The KPI's are: The first KPI centers around the reduction of greenhouse gas emissions within scope 1 and 2. Arla will continue to take industry lead on data-driven sustainable dairy production and raise its commitments to meet the 1.5-degree goal set by the Paris Agreement. Across its operations, Arla has raised its target to a 63% reduction of greenhouse gas emissions by 2030 which it will deliver by accelerating its conversion to green electricity, fossil-free fleets, making all packaging recyclable.
The second KPI focuses specifically on reducing the use of fossil based virgin plastic. Arla has a target of having zero virgin plastics in branded packaging by 2030. This is an ambitious target where ca. 80% of total plastic for branded products have to be converted.
The third and last KPI is reducing workplace accidents. The employees' health and safety is a top priority for Arla. To support Arla's zero ambition we set annual improvement targets for accident frequency rates, near miss and behavioral observation ratios. In our Cornerstones programme we also have a safety maturity index that guides our future safety journey for all operations
CFO in Arla Foods, Torben Dahl Nyholm says:
"We are very pleased to have signed this revolving credit facility linked directly to our ESG actions and our commitment to creating a sustainable and resilient future for dairy production, with a science-based target of 30% reduction in 2030 and for Arla to be carbon net zero in 2050. The facility supports our new FUTURE26 strategy where Arla will invest over 4 billion EUR focused on sustainability, digitalization, new production technologies and product development."
The revolving credit facility is a multibank facility financed by a consortium of Nordic and International banks.
Arla Foods is an international dairy company owned by 9,400 farmers from Denmark, Sweden, the UK, Germany, Belgium, Luxembourg and the Netherlands. Arla Foods is one of the leading players in the international dairy arena with well-known brands like Arla®, Lurpak®, Puck® and Castello®. Arla Foods is focused on providing good dairy nourishment from sustainable farming and operations and is also the world's largest manufacturer of organic dairy products.
Press contact
Åse Andersson
Global Head of Media
Press contact for Arla Foods Group
aasan@arlafoods.com
+45 91 310 310
+45 89 38 10 00