Press release
Arla Foods wins award for CSR report two years in a row
Read time:

1 min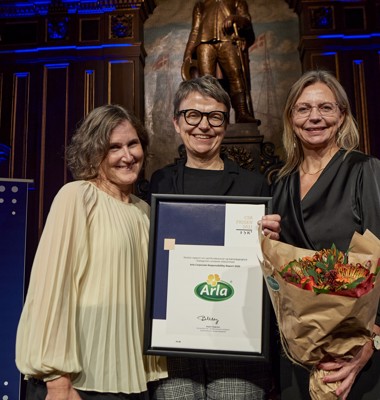 Arla Foods wins award for CSR report two years in a row
Published:

27 October 2021

Contacts:
For the second time, Arla Foods wins the CSR award for its transparent reporting on corporate social responsibility.
The CSR Award is an annual award given out by the association of Danish accountants, FSR, to Danish companies who have excelled in CSR reporting. This is the second time Arla Foods wins the award in the category of unlisted companies where a total of 34 companies have been judged.
"We are very proud and honoured to win this award. We strive to be responsible and transparent about our challenges, dilemmas and solutions and we constantly want to improve our reporting. Because we get most of our ESG numbers externally verified we can in our partnerships and communication prove that our work is built on a scientific foundation and delivers actual results. A massive effort goes into our reporting, from both farmer owners and colleagues, and they deserve this recognition", says CMO and head of CSR, Hanne Søndergaard.
FSR describes Arla's reporting as "data driven, systematic and substantial" and calls out the way Arla balances both its negative and positive impact on the world and the measurable ambitions put in place to drive development. This year, there is also praise for how the report deals with the work on basic human rights.
"The judging panel commends Arla's 2020 CSR report for how it embraces the climate agenda and reiterates how dairy is part of the solution. Also, Arla reports on their ESG numbers with a high degree of certainty due to their use of external validation", says Birgitte Mogensen, head of FSR's committee on social responsibility and sustainability.
Arla Foods have clear and scientific ambitions in place to become carbon neutral by 2050 and to reduce CO2e emissions by 30 per cent by 2030. Both targets are approved by the Science Based Targets Initiative.
To achieve this, Arla conducts annual climate checks with their more than 9000 farmer owners in seven European countries to identify emissions and come up with a list of actions that would have the most impact and that specific farm.
Check out Arla's 2020 CSR report here: https://www.arla.com/492ee1/globalassets/arla-global/company---overview/responsibility/csr-reports/2020/en_csr_arla_2020.pdf
Arla Foods is an international dairy company owned by 9,400 farmers from Denmark, Sweden, the UK, Germany, Belgium, Luxembourg and the Netherlands. Arla Foods is one of the leading players in the international dairy arena with well-known brands like Arla®, Lurpak®, Puck® and Castello®. Arla Foods is focused on providing good dairy nourishment from sustainable farming and operations and is also the world's largest manufacturer of organic dairy products.
Press contact
Åse Andersson
Global Head of Media
Press contact for Arla Foods Group
aasan@arlafoods.com
+45 91 310 310
+45 89 38 10 00