Press release
Arla equates climate with financial performance
Read time:

2 min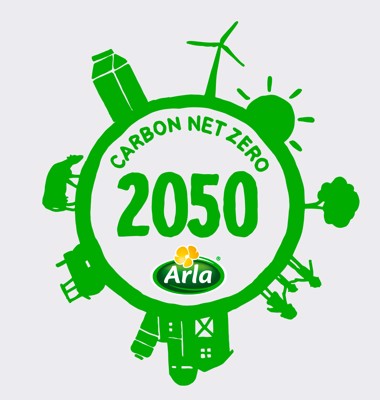 Arla equates climate with financial performance
Published:

18 March 2021

Contacts:
When Arla reports data on its environmental, social and governance performance, these numbers too are externally validated. In 2020 the cooperative received reasonable assurance on most of its ESG figures, signifying its strong commitment to a sustainable business and future.
For European dairy cooperative Arla Foods, sustainability is at the core of the business. In 2019 Arla decided to have its environmental, social and governance performance (ESG) externally verified, thus continuously improving the quality of data, demonstrating that for Arla, ESG performance and financial performance are equally important.
"We have very high ambitions for our ESG performance, such as our science-based climate target of reducing our CO2e emissions by 30% in 2030 and becoming carbon net zero by 2050. To create this amount of impact, we need to know that the data we're working with is correct. In order to constantly improve our ESG performance, external auditing is a strong tool," says Chief Financial Officer at Arla Torben Dahl Nyholm, adding:
"Furthermore, it is an absolute necessity for us that the data and figures we share publicly are solid and trustworthy. There is a growing demand for transparency from our customers, consumers and financial institutions, and our sustainability actions and thus our ability to account for them are key in building and maintaining trust in Arla as a business and in our farmer owners."
In the first year of external auditing, Arla's ESG figures received limited assurance from external auditor Ernest & Young (EY). In 2020, Arla aimed at further improving the ESG data quality; an effort that was guided by EY's requirements for reasonable assurance; the highest possible assurance level for non-financial data, which Arla managed to receive on most of its ESG figures this year.
"I am very pleased with both our results and our way of reporting them," says Torben Dahl Nyholm.
The highly complex figures on CO2e emissions from farms managed to again receive limited assurance in 2020, and Arla continues to improve standardisation in reporting across farms, aiming at achieving reasonable assurance on all ESG figures.
"As a responsible and trusted brand, full transparency and accountability across our entire value chain continue to be a strong guideline for us and the only way to move forward. Our farmers are working hard to produce high quality milk with as low environmental impact as possible while also providing solid, externally verified data on their farming," says Torben Dahl Nyholm.
Arla has introduced climate checks on farms, building the world's largest set of externally verified climate data from dairy farming. This data is a strong foundation for not just the cooperative's external reporting, but most importantly: The work towards a carbon net zero future.
Arla's consolidated ESG data as well as information about ESG accounting policies are presented in the cooperative's ESG report 2020, which is also a part of the Annual report 2020
Arla Foods is an international dairy company owned by 9,400 farmers from Denmark, Sweden, the UK, Germany, Belgium, Luxembourg and the Netherlands. Arla Foods is one of the leading players in the international dairy arena with well-known brands like Arla®, Lurpak®, Puck® and Castello®. Arla Foods is focused on providing good dairy nourishment from sustainable farming and operations and is also the world's largest manufacturer of organic dairy products.
Press contact
Åse Andersson
Global Head of Media
Press contact for Arla Foods Group
aasan@arlafoods.com
+45 91 310 310
+45 89 38 10 00