News
Now released: Arla's 2020 annual and social responsibility reports
Read time:

1 min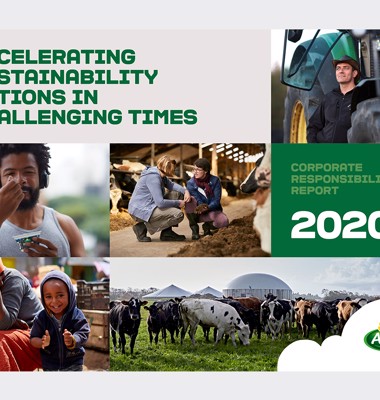 Now released: Arla's 2020 annual and social responsibility reports
Published:

25 February 2021
Today, Arla has published its Annual Report for 2020 along with its 2020 Corporate Responsibility Report. The two reports document how the cooperative has progressed its financial operations, as well as its responsible business practices over the past year.
The annual report for 2020 includes statements by Arla Chairman, Jan Toft Nørgaard, and CEO Peder Tuborgh, as well as financial figures and updates on Arla's strategy, the ongoing transformation programme Calcium, as well as the latest developments for Arla's key markets, strategic brands and business plans for 2021.
In its 2020 Corporate Responsibility Report, Arla reports on its progress within key focus areas such as health, sustainability and human rights.
You can find Arla's Corporate Responsibility Report 2020 in several available languages here: https://www.arla.com/company/responsibility/csr-reports/
You can find Arla's Annual Report 2020 in several available languages here: https://www.arla.com/company/investor/annual-reports/