Press release
Arla wins prestigious Danish CSR Award
Read time:

1 min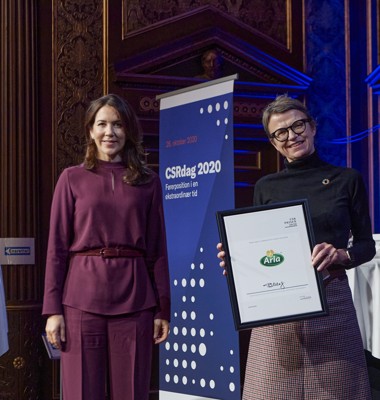 Mary, Crown Princess of Denmark & Hanne Søndergaard, CMO Arla Foods.
Published:

27 October 2020

Contacts:
Arla Foods has been awarded for its structured and transparent reporting on social responsibility, sustainability and climate impact.
The CSR award 2020 is given by FSR Danish Auditors for the best corporate social responsibility reporting. Arla received the award in the unlisted company category.
"We are very proud and happy to be recognized for our hard work with this prestigious award. Sustainability is very important to us at Arla and it takes a huge effort for colleagues and farmers to make continuous improvements and ensure the data to substantiate the impact of our actions," says CMO and head of corporate social responsibility, Hanne Søndergaard.
Focus on climate impact reporting
This year FSR Danish Auditors chose to focus on how transparent and credible companies report on their climate impact. 67 companies were in the running for the award, 7 were nominated and 3 companies, 2 listed and Arla as unlisted, received the award.
"For Arla as winner in the category for unlisted companies, the cooperative is a role model with scope divided CO2 emissions and objectives that are approved by the Science Based Target initiative,"
says Birgitte Mogensen, chairman of FSR Danish Auditor committee for social responsibility and sustainability.
This is the first time Arla wins the CSR award and Hanne Søndergaard received the award on Arla's behalf from Mary, Crown Princess of Denmark.
Sustainability initiatives across the business
Some of the recent sustainability initiatives taken by Arla include a commitment to become carbon neutral by 2050 ambition and to reduce greenhouse gas emissions per kilo of milk by 30 per cent by 2030, a target that has been approved by the Science Based Target initiative.
Arla has introduced a climate check programme to support its 9,700 cooperative farmers across seven countries in Europe to take further climate action and has created one of the world's biggest datasets on dairy production, which will guide the way to effective ways to lower climate impacts.
Arla has also launched a climate-neutral organic dairy range and has introduced a number of improved packaging for its core products such as milk cartons, skyr buckets and tubs for butter and spreadable.
You can read Arla's Responsibility Report here: https://www.arla.com/company/responsibility/csr-reports/
Arla Foods is an international dairy company owned by 9,400 farmers from Denmark, Sweden, the UK, Germany, Belgium, Luxembourg and the Netherlands. Arla Foods is one of the leading players in the international dairy arena with well-known brands like Arla®, Lurpak®, Puck® and Castello®. Arla Foods is focused on providing good dairy nourishment from sustainable farming and operations and is also the world's largest manufacturer of organic dairy products.
Press contact
Åse Andersson
Global Head of Media
Press contact for Arla Foods Group
aasan@arlafoods.com
+45 91 310 310
+45 89 38 10 00