Press release
Just two simple ingredients, one new innovation
Read time:

2 min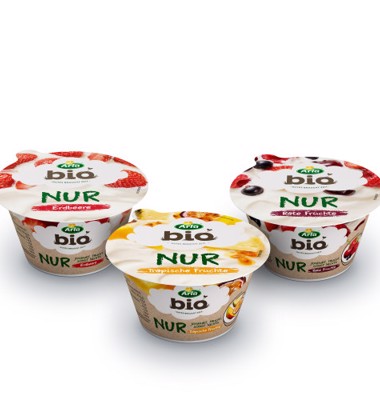 Just two simple ingredients, one new innovation
Published:

24 September 2018

Contacts:
Just two simple ingredients, one new innovation
As the consumer demand for healthy, natural products increases, Arla Foods has created a new innovation in fruit yogurts which has just hit the shelves in the German market. Driven by the dairy co-operative's desire to create products with no added or unnecessary ingredients, the Arla® Bio yogurt is the first product of its kind for the company anywhere in the world and consists of only organic yogurt (75 per cent) and organic fruit (25 per cent).
It was Arla's ambition to develop a yogurt with simple ingredients. With an increasing number of consumers recognising that the average fruit yogurt in Germany contains around 14g of added sugar, this is leading to a decline in the category. The Arla® Bio yogurt has no added sugar and contains between 6.8g and 7.7g of sugar, depending on the fruit variant, and consists of only natural ingredients.
Christian Trgo, innovation director for Arla Germany, comments, "At Arla, it is a first for us to launch a fruit yogurt made from just two ingredients a. This gives consumers an opportunity to reduce sugar consumption and still enjoy something new. We are committed to offering natural products that provide an alternative without added sugar and additives.
"To make sure our products are the best quality, it is in Arla's ethos that we never add any ingredients that aren't necessary. However, we wanted to take this even further by creating a new yogurt that contains only natural ingredients. Yet with simplicity comes complexity. We had a very short space of time to bring the concept to reality and overcome some very big challenges," Trgo says.
Developed as a collaboration between Arla's Innovation Centre in Denmark and teams in Germany, the timescales, technical challenges and taste requirements gave Arla and its innovation team one of the toughest product development tasks ever faced in the company.
Lukas Leutgoeb from Arla's research and development department at its Innovation Centre, says about the process, "When we began speaking to fruit prep suppliers, they told us it was impossible to create a product like this. Traditionally fruit and yogurt only would be a very sour combination so getting the right proportion, flavour and size of fruit was key if we could achieve a product that had no added sugar but still tasted great."
The research and development team tested over 180 variations of fruit prep before hitting on the right variations. Increasing the fruit makeup to a quarter of the yogurt, the team were able to ensure that it tasted just as good as products with other added ingredients.
After numerous trials, pilots, analyses of cost and collaboration across countries and teams, Arla finally achieved the 'impossible'.
The launch comes as Arla Foods steps up its commitment to creating healthy, natural products. The Arla Brand Nutrition Criteria ensures all the good nutrients from milk whilst limiting the amount of added sugar, salt and fat. Arla is targeting 95 per cent of all its Arla Brand products meet the criteria by 2020.
The Arla® Bio yogurtis available across Germany now and comes in strawberry, tropical fruits and red fruit variants. Produced in Uphal, Germany, it will launch into other European market across 2019.
Arla Foods is an international dairy company owned by more than 8,900 farmers from Denmark, Sweden, the UK, Germany, Belgium, Luxembourg and the Netherlands. Arla Foods is one of the leading players in the international dairy arena with well-known brands like Arla®, Lurpak®, Puck® and Castello®. Arla Foods is focused on providing good dairy nourishment from sustainable farming and operations and is also the world's largest manufacturer of organic dairy products.
Press contact