Press release
Annual Report 2016 available now online
Read time:

1 min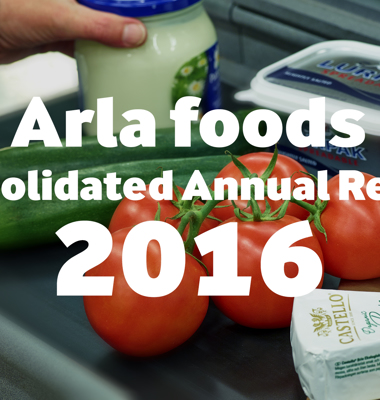 Annual Report 2016 available now online
Published:

02 March 2017

Contacts:
Arla has published its full annual report 2016, including all available financial figures and updates on Arla's strategy, Good Growth 2020, as well as markets, strategic brands, cost saving programmes etc.
Arla's Board of Representatives has approved the group's annual report 2016 at its meeting in Halmstad, Sweden on March 1-2.
The report provides insight into how Arla ran its global business in 2016 and includes statements by Chairman Åke Hantoft and CEO Peder Tuborgh as well as an in-depth financial review by CFO Natalie Knight.
"Good Growth 2020 has truly guided our business in 2016 and we have already come far on our strategy journey. We are more focused than ever on brand and category development as well as geographies. We managed to mitigate the impact of the extremely volatile market in Europe, and in many regions we succeeded in building our market shares with our International business," CEO Peder Tuborgh writes in his opening statement in the report.
Strong branded growth in a tough market
Arla delivered a solid business performance throughout 2016 and made a strong start to the delivery of its strategy, Good Growth 2020, despite highly volatile milk markets. While revenue declined due to the global price environment, Arla continued to improve the quality of its sales by moving more milk from bulk to brands, and Arla's net profit grew 20.7 per cent to EUR 356 million.
In the second half of the year Arla introduced increases in its prepaid milk price to farmers by nearly 30 per cent and expects annual revenue and performance price to improve in 2017.
You can find the Annual Report 2016 in five available languages at www.arla.com/annualreports
Arla Foods is an international dairy company owned by 9,700 farmers from Denmark, Sweden, the UK, Germany, Belgium, Luxembourg and the Netherlands. Arla Foods is one of the leading players in the international dairy arena with well-known brands like Arla®, Lurpak®, Puck® and Castello®. Arla Foods is focused on providing good dairy nourishment from sustainable farming and operations and is also the world's largest manufacturer of organic dairy products.
Press contact
Åse Andersson
Head of Media
Press contact for Arla Foods in Denmark
aasan@arlafoods.com
+45 91 310 310
+45 89 38 10 00
Carina Østergaard
Corporate Communication Manager
Press contact for Arla Foods International
caoes@arlafoods.com
+45 91 31 16 01
+45 89 38 10 00