Press release
​Additional 124 million euro paid out to Arla farmers
Read time:

1 min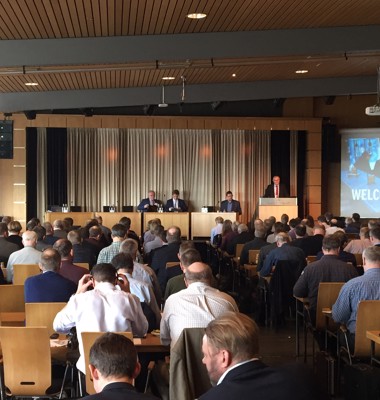 ​Additional 124 million euro paid out to Arla farmers
Published:

01 March 2017

Contacts:
Arla's Board of Representatives has decided to distribute a total of EUR 124 million to the farmer-owners as the annual supplementary payment, also known as the 13th payment. On average, that amounts to one eurocent per kilo of milk supplied by each farmer.
At the meeting in Halmstad, Sweden, the Board of Representatives today debated and decided how much of Arla's annual profit for the 2016 financial year should be paid out as supplementary payment and how much should be consolidated into the Arla Group for further investments in new strategic growth opportunities for the company.
Total net profit of the Arla Group in 2016 grew 20.7 per cent to EUR 356 million, of which the profit share of Arla Foods amba is EUR 347 million, corresponding to 3.6 per cent of Group revenue.
Excluding the profit from divestments, which remains in the company for re-investment, the available annual result for allocation for 2016 was 227 million euros. Of this, the Board of Directors had proposed that EUR 124 million would be paid out directly to Arla's farmer-owners, with EUR 103 million being retained in the company (partly as individual retainment that each farmer-owner can take with him/her when their membership ends, partly as common retainment that remains in the company as equity and for strategic re-investing).
After a thorough debate, the Board of Representatives voted in favour of the proposal from the Board of Directors with 181 votes for and 2 against.
This means that Arla's annual result for distribution to owners is allocated as follows:
EUR 124 million for supplementary payment (averaging 1.00** eurocent per kilo milk plus interests)
EUR 30 million for individual retainment (averaging 0.28* eurocent per kilo milk)
EUR 73 million for common retainment (averaging 0.54 eurocent per kilo milk)
EUR 120 million from the divestment of Rynkeby retained for strategic re-investing
* EAGM Walhorn merger agreement: EAGM members will receive individual retainment from fiscal year 2017. Until then this amount is distributed to common retainment in Arla. AMCo individual retainment partly transferred to common capital. AMCo merger agreement: Individual retainment partly transferred to common retainment. **AMCo merger agreement: 13th payment partly transferred to common retainment and partly used to pay off the loan.
Arla's board of representatives consists of 191 members – of which 179 are elected farmer-owners from various regions in Denmark, Sweden, UK, Germany, Belgium, the Netherlands and Luxembourg along with 12 employee representatives.
Arla Foods is an international dairy company owned by 9,700 farmers from Denmark, Sweden, the UK, Germany, Belgium, Luxembourg and the Netherlands. Arla Foods is one of the leading players in the international dairy arena with well-known brands like Arla®, Lurpak®, Puck® and Castello®. Arla Foods is focused on providing good dairy nourishment from sustainable farming and operations and is also the world's largest manufacturer of organic dairy products.
Press contact
Åse Andersson
Head of Media
Press contact for Arla Foods Group
aasan@arlafoods.com
+45 91 310 310
+45 89 38 10 00
Pernille Bonne Nejsig
Press and Communication specialist
Press contact for Arla Foods Group
perne@arlafoods.com
+45 91311232
+45 89 38 10 00