Press release
The Refrigerator's Chunky, Curdly New Superstar
Read time:

1 min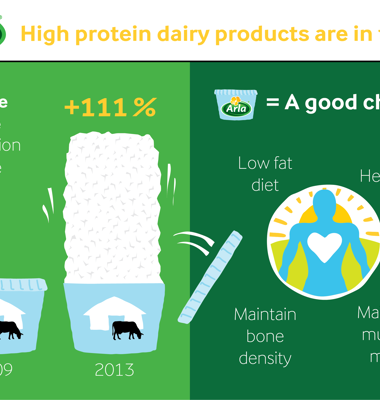 The Refrigerator's Chunky, Curdly New Superstar
Published:

03 June 2014

Contacts:
Across Europe, high-protein dairy products are a hit. Arla's production of cottage cheese alone has increased by over 110 per cent in the last five years, and to keep up with demand, Arla is going "all-in" with plans to open Europe's largest cottage cheese dairy this fall.
When it comes to nutrition, cottage cheese – once produced from the leftover milk in the butter making process - is quickly becoming a superstar of the dairy world. That's why Arla plans to open a dairy in Falkenberg, Sweden, this fall, that will ship 29,000 tonnes of the chunky, curdly food each year to countries all over Europe (enough to fill 230 fully-loaded average railcars).
The cottage cheese boom has come thanks to a general focus on healthier, higher-protein diets in recent years. A 2013 article in the American Journal of Clinical Nutrition suggests that a high protein breakfast, compared to a low protein one, can decrease the intake of unhealthy snacks in the evening. Cottage cheese can be a fast and convenient way to increase protein intake during breakfast.
Because it can be eaten throughout the day cottage cheese initially became popular with health enthusiasts, but has since gained a foothold with other consumers. For many of them, it has been about convenience: cottage cheese can be eaten directly from the container, or easily mixed with fruit, veggies or even spices. 
"Whether one is looking for high protein products good for a low fat diet, or because they workout a lot and prefer protein for muscle recovery, cottage cheese and other high protein dairy products – things like skyr and quarks- are becoming more and more popular," says Lise Larsen, Nutrition Specialist at Arla's Strategic Innovation Centre. 
Cottage Cheese's name comes from humble origins – it was once produced in small homes by draining milk curd leftover from butter making. Today, the production process at Arla's new Swedish dairy, decidedly more modern, will produce approximately 40 different cottage-cheese products for the Swedish and Arla's other core markets like Denmark and Finland beginning in October. 
Did you know?
• Milk protein is a high quality protein because of its high content of the amino acids (protein building blocks) that the human body needs on a daily basis
• In adults, protein is needed to maintain and increase muscle mass - but eating protein alone is not sufficient to make muscles grow and physical activity is also needed
• Protein is needed for normal growth and development of bone in children
Arla Foods is an international dairy company owned by 9,700 farmers from Denmark, Sweden, the UK, Germany, Belgium, Luxembourg and the Netherlands. Arla Foods is one of the leading players in the international dairy arena with well-known brands like Arla®, Lurpak®, Puck® and Castello®. Arla Foods is focused on providing good dairy nourishment from sustainable farming and operations and is also the world's largest manufacturer of organic dairy products.
Press contact
Åse Andersson
Head of Media
Press contact for Arla Foods in Denmark
aasan@arlafoods.com
+45 91 310 310
+45 89 38 10 00
Carina Østergaard
Corporate Communication Manager
Press contact for Arla Foods International
caoes@arlafoods.com
+45 91 31 16 01
+45 89 38 10 00