Press release
Arla invited New Yorkers to "Eat the Art" of Castello® cheese
Read time:

1 min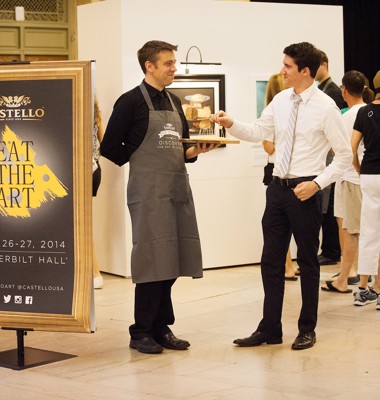 Arla invited New Yorkers to "Eat the Art" of Castello® cheese
Published:

30 June 2014

Contacts:
With a creatively crafted, two-day pop-up gallery in New York City featuring edible works of art fashioned from premium Castello® cheese, Arla continues to build on the impressive growth of the Castello® brand on the U.S. market.
On Thursday and Friday more than a million people passed through Grand Central Station in New York City, where Arla had moved in with a tasty pop-up Castello® cheese gallery in which 'foodies' and cheese-lovers could enjoy edible works of art fashioned from premium Castello® cheese.
Castello® cheese is distributed and sold across the entire U.S. through all major retailers and channels and is the number one selling imported blue cheese and Havarti in America. The event in downtown New York City aimed to build on that success and further boost the awareness and appreciation of Castello® cheese among consumers in America.
"By showcasing the Castello® cheese culture in Grand Central Station, we reached an audience much wider than just Manhattan, as the venue is visited by 500,000 people every day, of which many are tourists. Our "Eat the Art" pop-up gallery is a unique celebration of the creativity and craft that the founders of Castello® invested in the cheese, and we are delighted that more and more Americans are discovering the food inspiration and creativity found in Castello®. Our sales have grown significantly in the last six months," says Managing Director of Arla USA, Asger Drewes Jørgensen.
Being the largest market for cheese in the world, the U.S. is a key growth market for Castello®. For the past 12 months, the Castello® brand has been growing more than twice as fast as the overall speciality cheese market in the United States.
In 2013, Arla's overall turnover in the United States reached approx. 985 million DKK
Arla will introduce a similar Castello® pop-up gallery in London and Sydney later this year.
Arla Foods is an international dairy company owned by 9,700 farmers from Denmark, Sweden, the UK, Germany, Belgium, Luxembourg and the Netherlands. Arla Foods is one of the leading players in the international dairy arena with well-known brands like Arla®, Lurpak®, Puck® and Castello®. Arla Foods is focused on providing good dairy nourishment from sustainable farming and operations and is also the world's largest manufacturer of organic dairy products.
Press contact
Åse Andersson
Head of Media
Press contact for Arla Foods Group
aasan@arlafoods.com
+45 91 310 310
+45 89 38 10 00
Carina Østergaard
Corporate Communication Manager
Press contact for Arla Foods Group
caoes@arlafoods.com
+45 91 31 16 01
+45 89 38 10 00